By Amir Taghati
In Iran, Sistan and Baluchestan province is always without a doubt a part of every single conversation relating poverty, malnutrition, lack of facilities, water shortage, unemployment, and education difficulties.
Malnutrition
As admitted by one of the parliament representatives of this province himself, more than 95% of people have no access to food and nutrition in this area. 75% of them are living in absolute poverty, in conditions similar to that of African deserts.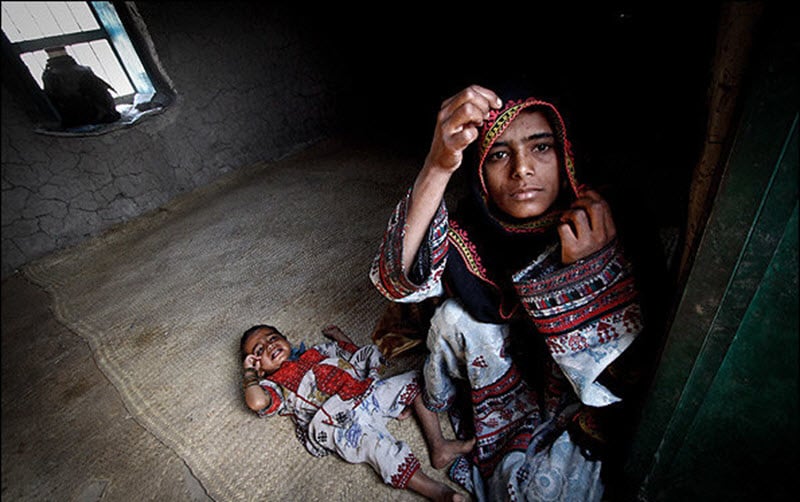 More than 40% of children under the age of 5, are underweight and shorter in height than the average. The prevalence of iron deficiency has doubled that of Iran's Index Limit, throughout all age groups. Food safety is of great concern in this province.
Sleeping in graves and cardboards
Due to an increasing lack of shelter over the years, many people are commonly seen sleeping in graves, cardboards, and torn tents, on street sides, parks, and in the vicinity of main squares.
Shortage of water
An official recently announced that the water reserves of this province's dams will last for only around 5 months, and that shortage of drinking water is the main problem of this province right now.
A state-run newsagency named Tasnim wrote in this regard, quoting that Sistan and Baluchestan is now in its "worst" state ever, in terms of water reserves. People are suffering from lack of water and their livestock are also going extinct.
In many villages, people are drinking the contaminated waters of neighbouring residents.
Ongoing drought over the past several years, especially this year, has led to the drying of thousands of "Qanats" within the province.
Poor education
The schools in this province are all deprived of the most basic facilities that a standard school would need.
In fact, many villages and towns of this province have been labelled as having the poorest education in the country.
In Khash city for instance, more than 26 institutes are run by a single "soldier-teacher" across all levels of study, in very small and low-quality spaces.
Many other villages have no schools in the first place. Where students write their materials using just mud and blackboard.
Poor communication
In Sistan and Baluchesta, there are around 5000 villages, each with more than 20 families.
95% of these people have no internet or phone, and absolutely no means of communication with the rest of the world. Which means that in case of an emergency, they would be unable to call for help, which consequently increases the risks of accidents significantly.
Looking at the overall picture, one can see that on one hand people are suffering from physical deprivations such as those mentioned just earlier, and on the other, from mental pressures caused by an unjust regime. It's a shame for a country like Iran, which is very rich in natural resources, especially those of oil and gas, to have its people living in extreme poverty.
The regime is so careless about people that instead of making any improvements in their lives, spends billions of dollars (from national currency reserves) on malicious intents, both internally (on Iranian people) and externally (interfering with wars in Syria, Yemen, Lebanon, and Iraq).
Poverty has exacerbated so much that thousands of Iranians, from all kinds of social backgrounds, have been screaming for help as evident in their ongoing protests over the months. Their message is loud and clear: this regime must be subverted and replaced with an Alternative that is based on justice and committed to democracy; an Alternative that can put an end to the 40 years of an unbelievable misery!