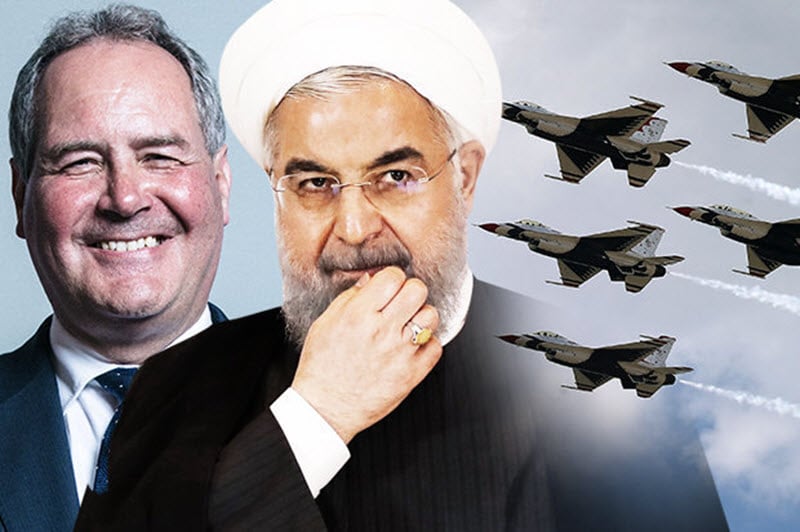 By Staff Writer
Conservative MP Bob Blackman said that there would have been a war if the Iranian Regime's plot to bomb the Free Iran gathering in Paris on June 30, attended by 100,000 people, had succeeded.
Blackman, who was among the 600 politicians and dignitaries from around the world to attend the Iranian Resistance conference, said that "such a horrendous attack" would have led those at the top of the US administration to press for military action.
The MP for East Harrow said: "Key figures in the American government were there. I wouldn't like the think what would happen. If those people had been killed or injured, there would have been a war, without question."
The bomb plot was thwarted by European authorities, who arrested two Iranian agents, Amir S, 38, and Nasimeh N, 33, in Belgium. The couple, who were caught en-route to the gathering with 500 grams of home-made explosives in their car, were charged with attempted terrorist murder and preparation of a terrorist act by Belgian authorities.
German authorities arrested an Iranian diplomat who was stationed in Vienna, Austria, for hiring the couple and providing the explosives to them. He is supposed to be extradited to Belgium.
Blackman said that he is assisting Belgian authorities to secure a "successful prosecution" against the terrorists.
On Wednesday, the National Council of Resistance of Iran (NCRI) held a press conference in London to reveal new information about the Regime bomb plot and their other terrorist activities in Europe.
The NCRI advised, in a new report, that Supreme Leader Supreme Leader Ali Khamenei and President Hassan Rouhani had approved of the Paris bomb plot back in January, as the Iranian uprising, led by the Resistance, took over the country. They also revealed that the Supreme National Security Council (SNSC), chaired by Rouhani, is the driving force behind the planning of terror attacks abroad.
They said: "According to specific information from within the regime, the decision to carry out the operations, including the attempted bombing of the Paris gathering, was taken in January 2018 in the Supreme National Security Council, headed by Hassan Rouhani."
The NCRI also warned that Iran's terrorist activities in Europe have "entered a new phase" and that Iranian embassies are often involved in the plots.
After the press conference, Blackman encouraged the British government to follow withdraw from the Iran nuclear deal, as the US has, and re-imposed effective sanctions.
He said: "I don't want to see the people of Iran suffer, go hungry, or any other problems. But what I do want to see is regime change with a democratically elected government that is actually going to look after the people. That means you sanction the people with the money and the people who are causing the trouble, the leadership of Iran and also the IRGC, who are involved in terrorist activities and other nefarious activities."