On June 19, 2021, in a sham election, Ebrahim Raisi was selected as the eighth President of the Iranian regime. The promotion of Raisi as President by the regime's supreme leader met widespread international outrage. 
 On the same day, Amnesty International announced that Raisi must be investigated for crimes under international law instead of assuming power. In a report issued in 2018, Amnesty International identified Ebrahim Raisi as a member of the "death commission," which carried out executions of several thousand members of the Mujahedin-e Khalq (MEK) and other political groups in prisons throughout the country between late July and early September 1988.
International Federation for Human Rights reported that Raisi played an important role in the repression and execution of protestors after the controversial 2009 presidential election in Iran.
Human Right Watch reported: "During his judicial career, Raisi oversaw some of the most heinous crimes in Iran's recent history, which deserve investigation and accountability rather than an election to high office."
Documentary: 1988 massacre of 30,000 political prisoners in Iran and the role of Ebrahim Raisi
Who is Ebrahim Raisi, and what is his background?
Ebrahim Raisi, known as "Butcher of Tehran" for his role in the 1988 massacre of over 30,000 political prisoners in Iran, has played a key role in the execution of thousands of political prisoners in Iran.
On June 2, 2020, Raisi defended the mullahs' crimes against humanity and, while referring to Khomeini, the regime's founder, said:
"At a meeting that I attended with three or four of our colleagues with [Khomeini]. There was a report regarding a number of these cases. When we were leaving, we were all thinking that [Khomeini] is more revolutionary than us. We had gone there to say we are doing this and that… thinking [Khomeini] may say we are going too far. We saw that [Khomeini] is many steps ahead of us. Not only did he encourage us, he also said we should pursue these measures with a far more serious drive, and not just in Tehran, but in all other provinces," Raisi continued.
In 1988, Grand Ayatollah Hossein-Ali Montazeri, Khomeini's successor at the time and a higher-ranking cleric than current Supreme Leader Ali Khamenei, and his minions summoned members of the Death Committee, including Raisi. Montazeri addressed them in a recorded and later published meeting, stating, "The greatest crime committed under the Islamic Republic, for which history will condemn us, has been committed by you. Your (names) will in the future be etched in the annals of history as criminals."
A glance at Ebrahim Raisi's background clarifies who he is and why Khamenei has chosen him as the head of the Judiciary and possibly the future supreme leader of the regime.
‌Background:
Mullah "Ebrahim Rais-al-Sadati," known as Ebrahim Raisi, was born in 1959 in the Noghan neighborhood in the city of Mashhad, Khorasan Razavi province. After finishing elementary school, he studied in Mashhad's seminary. In fact, his non-seminary education is only up to sixth grade. He was sent from Mashhad's seminary to Qom's seminary at the age of 15.
Raisi was eighteen at the time of the 1979 anti-monarchic revolution. In the first days of the establishment of the regime, at the invitation of Hadi Marvi, Ruhollah Khomeini's representative in Masjed-e-Soleiman, Raisi went to Masjed-e-Soleiman, and his connection with the clerical court began.
A year later, after returning from the crackdown on Masjed Soleiman, Raisi was sent to the Karaj Prosecutor's Office as a judge while he was just 19 years old. His job there was basically to interrogate detainees. At the age of 20, the then Revolutionary Prosecutor, the criminal cleric Ali Qoddusi, appointed Ebrahim Raisi as the Karaj Prosecutor. After a few months and after countless crimes in Karaj, Ebrahim Raisi was appointed as the Prosecutor of Hamedan while simultaneously retaining his position in Karaj.
Raisi continued to suppress the people until 1984 as the Prosecutor of Hamedan. In 1984, when mullah Ali Razini became the head of the Central Revolutionary Prosecutor's Office, he appointed Ebrahim Raisi as the deputy head of the Central Revolutionary Prosecutor's Office.
At the time, the Central Prosecutor's Office had three deputies: an economic deputy, a drug trafficking deputy and a so-called "grouplets" deputy. Raisi, then 24, became deputy for grouplets. Raisi, then deputy of the Revolutionary Court Prosecutor's Office, actively participated in all the regime's atrocities. Particularly, he played an active role as a member of the Tehran "Death Commission" during the 1988 massacre.
The 1988 Massacre Death Commissions
In the summer of 1998, following a fatwa by Khomeini, over 30,000 political prisoners, mostly members and supporters of the People's Mojahedin Organization of Iran (PMOI/MEK), were executed in various Iranian prisons, including Evin Prison in Tehran and Gohardasht Prison in Karaj.
Raisi, who was Tehran's Deputy Prosecutor at the time, along with mullah Hossein Ali Nayyeri, the Sharia judge; Morteza Eshraqi, Tehran Prosecutor; mullah Mostafa Pourmohammadi, Deputy Minister of Intelligence; and Ismail Shushtari, head of the prisons department, were members of the Central Committee of the "Death Commissions," which oversaw the 1988 massacre. This committee was commissioned by Khomeini to massacre and execute all political prisoners who remained steadfast in their positions.
On August 9, 2016, Ahmad Montazeri, the eldest son of Ayatollah Montazeri, who was Khomeini's successor until the 1988 massacre, made public the tape of the August 15, 1988 meeting of his father with members of the Tehran "Death Commission." During the meeting, Ayatollah Montazeri strongly criticized the executions and said to the Death Commission: "History will condemn us and will register your name as 'criminals.'"
In his memoirs, Montazeri states: "It was first of [Islamic holy month of] Muharram; I asked Mr. Nayyeri, Mr. Eshraqi, Mr. Raisi, and Mr. Pourmohammadi and said, 'Now is Muharram. At least stop the executions in Muharram.'"   Montazeri continues: "Mr. Nayyeri told me: 'We have so far executed 750 in Tehran and separated 200 as those persevering on their position. Let us finish them, and then whatever you say, we shall do it.'"
VIDEO: The untold story of the 1988 Massacre in Iran
Thus, Ebrahim Raisi, who had been part of the Khomeini regime's killing machine since he was 18, played one of the main roles in the bloodbath of religious fascism at the age of 28 as a member of the 1988 Death Commission. Some of the survivors of the executions have narrated that they saw Ebrahim Raisi in the corridors and torture chambers of the prison while he was working on the execution cases without religious clothes or a turban and clad wearing comfortable clothes.
Ebrahim Raisi, who proved his ruthlessness during the 1988 massacre and gained Khomeini's special trust after this massacre, was greatly appreciated by Khomeini and received orders to hold top positions.
Continued killings and crimes after the 1988 massacre
On January 1, 1989, after being convinced of Raisi's brutality as Deputy Prosecutor of Tehran, Khomeini selected him to be in a two-member delegation alongside the Nayyeri. The two were tasked with issuing death sentences and ordering amputation of limbs in order to increase repression "regardless of the administrative difficulties."
Khomeini's order:
His excellency, Hojjat al-Eslam Mr. Nayyeri,
Since I have received numerous reports of the weakness of the judiciary, and the honorable and committed people of Iran expect a more serious approach to various issues, Your Excellency and Hojatoleslam Raisi will be given a judicial mission to investigate the reports from the cities of Semnan, Sirjan, Islamabad and Doroud, and to carry out what is God's command in these cases, regardless of the administrative difficulties. May peace be with you.
January 1, 1981, Ruhollah Khomeini
Abdul-Karim Mousavi Ardebili, then head of the regime's Supreme Judicial Council, saw his position in danger following Khomeini's letter to Raisi and Nayyeri. Therefore, he abruptly rushed to Tehran's Friday Prayers on January 20, 1989, and said:
"The shackling problems of the judicial system prevented the issuance of sentences, and Imam Khomeini was recently informed that the issuance of sentences would be delayed due to cumbersome problems. He paid close attention and sent a letter emphasizing that the execution of God's commands should not be delayed. When Imam said this, and we felt that we had this permission from the Imam; within 24 hours: four people were executed, two hands were cut off, and three people were imprisoned. The Tracking Office is available day and night and can be notified by phone.  Just tell us such a thing has happened, and we will end the matter in 3, 4 or 5 days by using the order of the Imam, by creating extraordinary ad-hoc courts."
A day after Mousavi Ardebili's speech declaring his position, Khomeini issued a new order increasing Raisi's authorities and instructing the regime's Supreme Judicial Council to give Raisi and Nayyeri all the stagnant cases in order to see to the death sentences, floggings, and amputations, so that the accused could be punished as soon as possible.
Khomeini's second order: 
"Supreme Judicial Council of the Islamic Republic,
Give all the cases, surprisingly left stagnant at the council, and those that have delayed the execution of God's order, to Hojatoleslams Raisi and Nayyeri, so they could execute God's orders as soon as possible, as delays are not permissible.
Ruhollah Khomeini – January 21, 1989."
Raisi didn't simply gain Khomeini's trust and Khamenei's special attention.  His judicial positions, as someone deeply involved in crimes respectively are: Investigator in Masjed Soleiman Prosecutor's Office, Prosecutor in Karaj Prosecutor's Office, Karaj Prosecutor, Hamadan Prosecutor, Deputy Prosecutor General of the Tehran Revolutionary Court; and after the 1988 massacre, Revolutionary Prosecutor of Tehran, head of the General Inspectorate, First Deputy Chief of the Judiciary, Special Prosecutor of the Court of the Clergy, Chairman of the National Television Supervisory Council, and Attorney General. He has been involved in all of the regime's crimes throughout these years.
In a speech at the opening of the 23rd National Assembly of Revolutionary Guards (IRGC) Commanders and Officials on September 30, 2019, Raisi described his cruelty during these years by saying: "We will not cut the fingers of those who are corrupt; we will cut off their entire hand." Even the state-run news agencies were not able to exactly quote this sentence and tried to change it in many forms.
Raisi: We will chop off the arms of corrupt figures!
Raisi and export of terrorism and fundamentalism
In 2015, in an order, Khamenei appointed Raisi as the caretaker of the Astan-e Quds Razavi (AQR), one of the largest financial institutions in the Middle East. Raisi took this position after years of killings, cutting hands, and massacre, which he described as his "honor." According to Khamenei's decree, the foundation is exempt from paying taxes so that it can freely continue financing terrorism and fundamentalism in the region and other countries.
Caption: Letter from Khamenei's office regarding the continued exemption of Astan Quds Razavi from paying tax.
AQR is known as a financial empire and economic giant, and this aspect has always been highlighted. But another hidden aspect of the AQR, and its important task, since it has huge financial resources, is to allocate facilities and resources and fund publishing and promoting fundamentalist and terrorist ideas in general and particularly working on potential elements to recruit spies and terrorists. It financially supports them and trains them in camps dedicated to this task in Iran, including the so-called Imam Ali Garrison.
In connection with this aspect of the activities of Astan Quds, a report had previously been posted on the website of the Foreign Affairs Committee of the National Council of Resistance of Iran (NCRI), which stated in part:
Astan-e Quds Razavi financing activities of New Horizon institution in serving terrorist Quds Force and recruiting western spies
On February 13, 2019, the U.S. State Department sanctioned two institutions and nine individuals affiliated with the Iranian regime.  One of these two institutions was the "New Horizon Organization" (In Farsi it is called Ofogh No Organization). Nader Talebzadeh and Zainab Mohana Talebzadeh were among the sanctioned individuals. Talebzadeh cooperates with the Islamic Revolutionary Guards Corps (IRGC) organization of electronic war and defense.
Astan Quds Razavi, an economic powerhouse of the Iranian regime
The IRGC supports the New Horizon institution, and authorities have admitted to its liaison with Khamenei's office.
Its main task is providing cultural cover for the Quds Force's terrorist acts and obtaining security intelligence. This is accomplished, for instance, by holding "conferences" and other events to recruit agents for the IRGC's Quds Force and obtain information from foreign citizens.
New Horizon also uses foreign agents to produce and disseminate material for the regime's demonization campaign against the Iranian opposition, particularly the People's Mojahedin Organization of Iran (PMOI, Mujahedin-e Khalq, or MEK). For instance, during the sixth conference of New Horizon that was held in Mashhad on May 2018, representatives of the Ministry of Intelligence and Security (MOIS) advocated and distributed several books and publications of the MOIS against the MEK in English and also used the event to tarnish the image of the MEK and also briefed the individuals who were brought to the conference by the regime and tarnished the image of the MEK.
On February 13, 2019, U.S. officials declared that the Iranian regime had recruited Monica Witt, a former United States Air Force intelligence officer, with access to classified intelligence. She now cooperates with the mullahs' regime in an extensive operation targeting her former intelligence colleagues. U.S. attorneys issued an arrest warrant for Witt based on 18 charges, including espionage, fraud, aiding and abetting a foreign state.
The IRGC's Quds Force recruited Ms. Witt following her participation in two international conferences the New Horizon held in support of the Quds Force.
Monica Witt, who later chose the name "Fatemeh Zahra" went to Iran to participate in the IRGC's "Hollywoodism" conference held under the New Horizon's cover in January 2012.
Iran's intelligence services recruited Witt through the "New Horizon" institution in 2013. Witt attended another "Hollywoodism" conference at the Parsian Azadi Hotel in February 2013. On August 28, 2013, Witt went to Iran. Immediately after arriving in Iran, immediately upon her arrival in Iran, Witt was furnished with housing and computer equipment in order to facilitate her work on behalf of the regime.
According to U.S. officials, she immediately started her cooperation with the regime and provided the Iranian regime with classified information, including the real names of U.S. intelligence resources.
Notably, Astan-e Quds Razavi financed the New Horizon seminars and meetings that prepared the ground for Witt recruitment.
According to the organizers like Nader Talebzadeh, AQR financed the New Horizon's 6th international conference held in May 2018. making it the New Horizons' de facto sponsor.
According to the organizers, 60 political, security, and military personalities from other countries participated in this conference held in Mashhad under the name of "Quds, the everlasting capital of Palestine."
Financing and providing facilities for fundamentalist activities and foreign agents
Astan-e Quds Razavi has played an active role in providing financial, material and logistical support to fundamentalist and terrorist groups within the last few years.  Particularly, the heads of AQR had vast relations with Hezbollah's top officials. It is worth noting that these activities within the past few years have been expanding.
Ebrahim Raisi, the custodian of Astan-e Quds (now the regime's judiciary chief), personally visited Lebanon at the end of January 2018 and met Hezbollah leaders, including Secretary-General Hassan Nasrallah. He also visited Hezbollah's military positions in southern Lebanon.]The U.S. Department of Treasury placed Raisi on its sanctions list on November 5, 2019]
Raisi met with the family members of the highest-ranking commanders of Hezbollah involved in the regime's terrorist operations, who were killed, and expressed his support of them. These include Imad Mughniyeh, the second-in-command of Hezbollah and its former military commander, who was personally involved in some major terrorist operations against western targets, such as the hijacking of TWA Flight 847 in 1985, killing U.S. Navy personnel, and planning bombings at the U.S. Embassy and Marine Base in 1983.
During his meeting with Nasrallah, Raisi said that the Hezbollah Secretary-General and Major General Qassem Soleimani, commander of the IRGC's terrorist Quds Force, have a lot in common.
Raisi, also visited the Lebanese head of the Shi'ite's Assembly, Abdul Amir Qablan, and said, "The Zionist regime, because of its terrorist nature, was highly inclined to ISIS to be formed as the second center of state terrorism in the region, but the resistance front neutralized the plot promptly. God willing, the first center of terrorism will have the same fate."
Raisi also stressed the necessity of Astan-e Quds' cultural presence in Lebanon and its work with Lebanese cultural centers, which are, in fact, paving the way for the regime to recruit agents. He said, "Now in the world, a new civilization in the name of Islam is on the verge of creation, so the scholars should take the maximum advantage in this field."
On the occasion of his first 200 days as custodian of AQR, on August 14, 2016, Raisi held a program called "Celebration of Islamic Resistance," which opened with a message from Hassan Nasrallah.
On September 2nd of that year, Raisi met with Akram al-Kaabi, the leader of the Iraqi Harakat Hezbollah al-Nujaba. Iran's state-run Tasnim News Agency quoted Akram al-Kaabi as saying, "During the presence of American forces in Iraq, Al-Nujaba, conducted 3,000 operations against these occupier forces, and the footage is still available." Underlining the importance of Iran's support of the so-called resistance groups, he continued: "The fighters of the Islamic resistance in Al-Nujaba were trained and equipped by Iran. In this way, they have gained a lot of experience on the battlefield."
The U.S. included Harakat Hezbollah al-Nujaba and its leader Akram al-Kaabi in its sanctions list on March 5, 2019.
On July 14, 2019, a delegation of the AQR Met with Qais al-Khazali, leader of the terrorist group of Asa'ib Ahl al-Haq in Iraq. According to the group's official website, the delegation praised Qais al-Khazali for his so-called "defense of the rights of the Islamic Ummah" and gave him an Astan-e Quds' flag.
Asa'ib Ahl al-Haq and Qais al-Khazali have both been on the U.S. sanctions list for years.
Astan-e Quds Razavi, also supports family members of Iranian agents who have been killed, including members of terrorist groups like Hezbollah, as well as agents in Iraqi, Syria, Nigeria, and so on. The regime organizes pilgrimage and tourism in Iran and uses this for further terrorist and extremist recruitment.
On July 21, 2018, while still caretaker of AQR, Ebrahim Raisi hosted Soleimani in Mashhad and offered him the highest honorary title of AQR.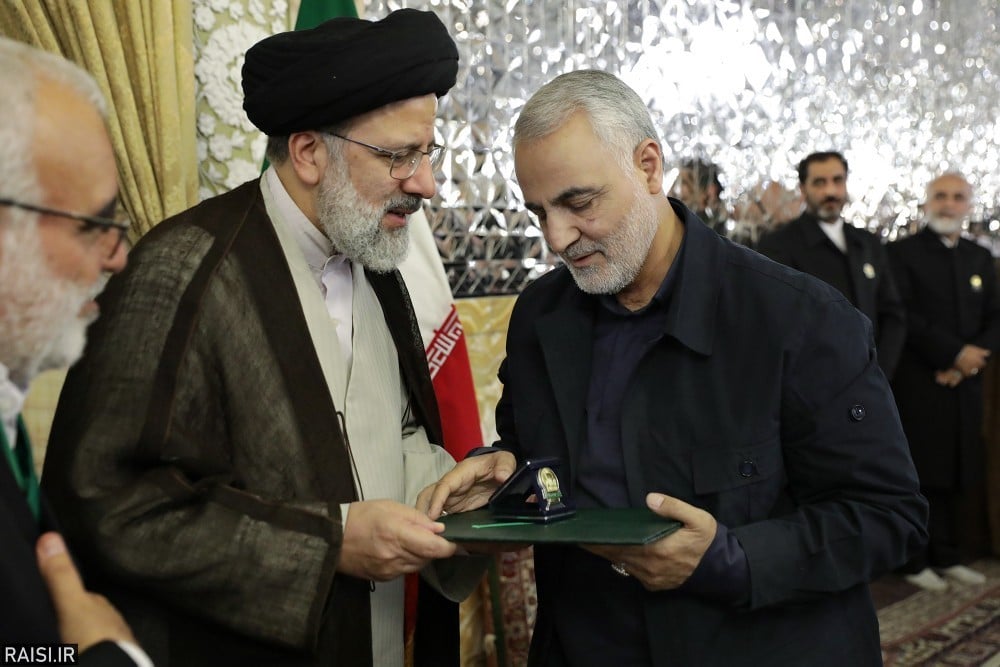 Raisi: A candidate during the regime's 2017 sham presidential elections and his subsequent appointment as Judiciary Chief
Another step by Khamenei to prepare the ground for Raisi to become the next Supreme Leader was to let Raisi become the regime's President, like Khamenei himself. Therefore, during the regime's sham election in 2017, Raisi was the main candidate of the so-called "conservative" camp, or rather Khamenei's faction. Yet, due to the MEK's revelations about Raisi's key role during the 1988 massacre, and the rival faction's threats to reveal details about this issue, Khamenei was unable to select Raisi.
General hatred toward Raisi, as a known perpetrator of the 1988 massacre, was the main obstacle. Even Hassan Rouhani, the regime's current President, who had Mostafa Pour-Mohammadi, another perpetrator of the 1988 massacre, in his cabinet, said during his campaign: "The Iranian people declare that they do not recognize those who have only known execution and prison in the last 38 years."
Although Khamenei was not able to engineer the 2017 presidential elections as he wanted and have Raisi become President, he chose another way. Finally, on June 6, 2018, Khamenei appointed Ebrahim Raisi as the regime's Judiciary Chief .
In his decree, Khamenei spoke of Raisi's "jurisprudence, knowledge, experience, health, trust, and efficiency in various periods of service and long history of serving" as the reasons for his decision.
Raisi's role in the 1988 massacre was the main reason why Khamenei appointed him to serve as head of Iran's judiciary in the wake of a nationwide uprising at the beginning of 2018. Featuring slogans such as "death to the dictator" as part of protests that encompassed well over 100 cities and towns, that uprising went a long way toward revealing the opposition's organizational strength and the extent of its popular support.
The January 2018 uprising ended with dozens of activists killed and thousands in prison, but this was nothing compared to the regime's response to another, even larger uprising in November 2019. In that case, the Islamic Revolutionary Guard Corps and other repressive authorities opened fire on groups of protesters almost immediately after the demonstrations began. Roughly 1,500 were killed in a matter of days, while thousands were again arrested and placed at the mercy of Raisi's judiciary.
Far from showing any mercy, that judiciary initiated a campaign of systematic torture that carried on for months and was eventually detailed in reports by human rights organizations like Amnesty International.
His meeting with the regime's officials in the city of Mashhad after this appointment by Khamenei, particularly Raisi's meetings with the IRGC commanders, and the behavior of others with him in the photos and clips that were published became noticed by different parties. Some described these meetings as an early allegiance with the regime's next Supreme Leader. Especially when Raisi started teaching Kharej lessons at the seminary in 2018, it became clear Khamenei had invested in him to be his successor.
On November 4, 2019, the United States Treasury imposed sanctions on the Iranian regime's Armed Forces General Staff and nine individuals, including Ebrahim Raisi. The Treasury statement highlighted the role of Ebrahim Raisi in the 1988 Death Commissions that sentenced thousands of political prisoners to death.
"Today, OFAC designated Ebrahim Raisi, the head of Iran's Judiciary, who was appointed by the Supreme Leader in March 2019."
"Prior to Raisi's appointment as head of the Judiciary, he served as prosecutor general of Tehran between 1989 and 1994, first deputy head of the judiciary from 2004 to 2014, and Iran's prosecutor general from 2014 to 2016."
"Previously, as deputy prosecutor general of Tehran, Raisi participated in a so-called 'death commission' that ordered the extrajudicial executions of thousands of political prisoners in 1988."
Raisi has never held an elected office. The regime's Supreme Leader Ali Khamenei appointed him as the Judiciary Chief for two reasons: First, to increase oppression and pursue the regime's contraction policy. Second, to prepare the ground by establishing his position as one of the regime's officials who could be the next Supreme Leader of the mullahs' regime.  Yet, all the evidence suggests that these efforts will not succeed and are merely some desperate moves by a regime that is at the end of its life.