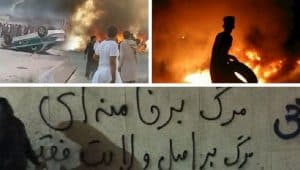 Despite the deployment of IRGC and other repressive forces, the uprising and protests in Sistan and Baluchistan Province continue. On Saturday night, rebellious youths blocked the Zahak transit highway in Zabul to prevent the movement of the repressive forces. They were chanting, "Down to Khamenei, down to the Revolutionary Guards."
The same day, the Baluchi youths set tires on fire, closing the Bahou-Kalat (On Dashtiari district – Sistan and Baluchestan Province) highway to Chabahar. They also blocked the Jask-Chabahar highway in the Karavan region by setting fire to tires.
On Friday night, the defiant youths set fire to block the movement of the repressive clerical forces in Panj Shir Mir Java county. Baluchi youths also blocked the highway and set fire to Khomeini's pictures in Qasr-e-qand county.
The clerical regime has arrested hundreds of Baluchi youths and deployed its border Security Force at Saravan's intersections to prevent the continuation of the uprising. Fearful of attacks by Baluchi youth, it has also installed concrete barriers around Revolutionary Guards bases in Suran.
Meanwhile, the cybersecurity and Internet's governance monitoring watchdog Netblocks reported significant disruption of Iran's Internet following the protests in Sistan and Baluchestan.
Secretariat of the National Council of Resistance of Iran
February 28, 2021