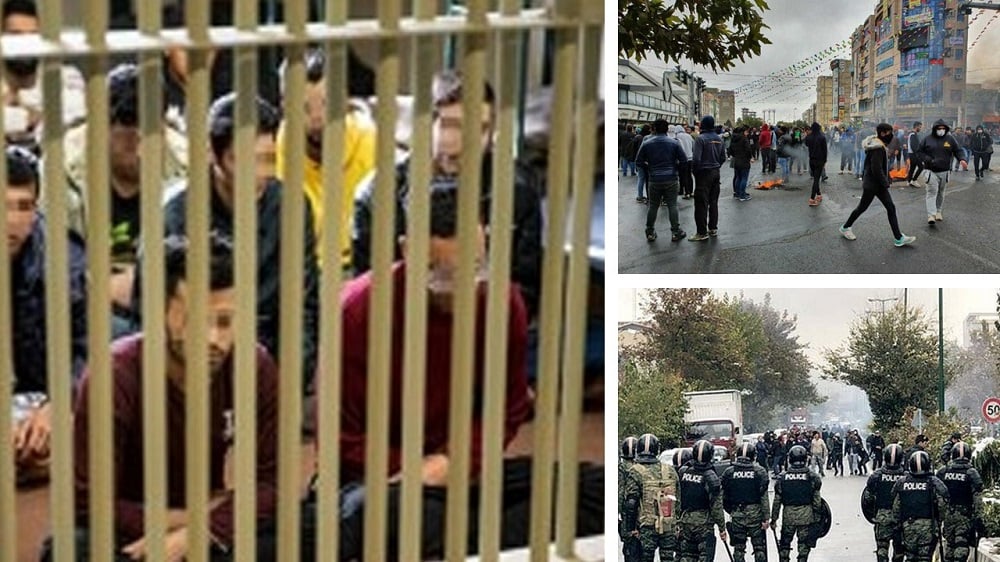 During Iran protests in November 2019, and January 2020, the Iranian regime arrested over 12,000 protesters.
Written by Secretariat of the National Council of Resistance of Iran (NCRI) on 08 February 2020.
The clerical regime's so-called courts sentenced a number of protesters arrested during the November 2019 nationwide uprising to lengthy prison terms.
Siamak Moqimi Mo'meni, 18, arrested in Parand township by agents from the IRGC's Sarollah Garrison, was sentenced to 10 years in prison by Branch 24 of the so-called revolutionary court in Tehran. He was convicted of "assembly and conspiracy, propaganda activities against the state, and insulting the leader (Ali Khamenei), and the president (Hassan Rouhani)."
Milad Arsanjani, 31, was sentenced by branch 1 of the so-called revolutionary court in Shahriar, south of Tehran, to five years in prison. Kianoush Jamali, 27, had been arrested on November 19, 2019, by IRGC's Sarollah Garrison forces. Branch 26 of the so-called revolutionary court sentenced him to 7.5 years in prison. Both were convicted on such bogus charges as Assembly and conspiracy against the state and insulting Khamenei and Rouhani.
Ali Khamenei ordered a deadly crackdown on #IranProtests in order to save his regime from collapsing. This resulted in over 1500 martyrs, 4,000 injured &12,000 arrests. In addition, to conceal its crimes against humanity, the Iranian regime imposed an internet blackout. pic.twitter.com/kgaOwJP5P0

— NCRI-FAC (@iran_policy) December 30, 2019
Some 12,000 protesters were arrested during the November 2019 uprising. Three months later, the mullahs' regime continues to refuse to publish the actual number of the martyrs, and those wounded and arrested. The henchmen have put many of those detained under savage torture to extract forced confessions and television interviews.
The Iranian Resistance condemns these inhuman sentences and again underscores the need for the dispatch of a fact-finding mission to Iran to visit the prisons and assess the situation of those arrested. Silence and inaction vis-à-vis these atrocities only embolden the mullahs to continue and intensify their suppression of the Iranian people.
Secretariat of the National Council of Resistance of Iran
February 8, 2020