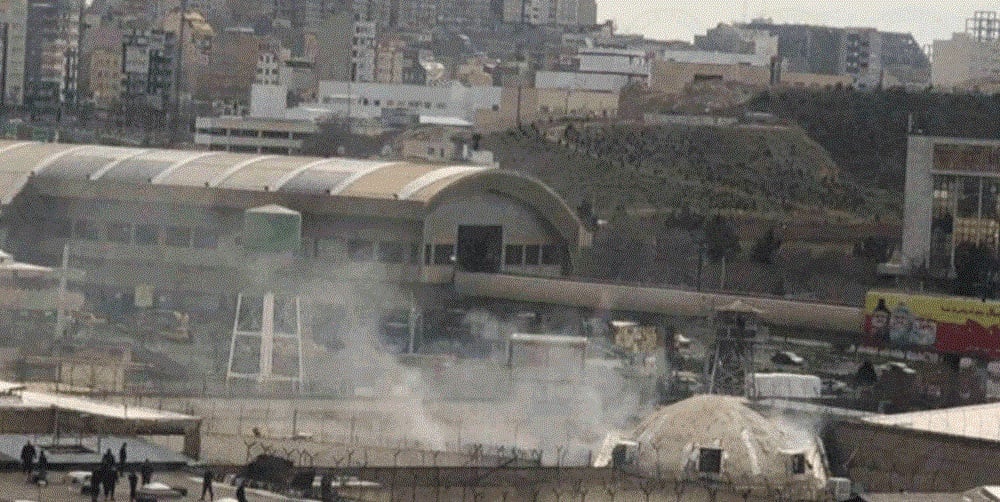 Mrs. Rajavi calls for immediate international intervention to release prisoners to prevent a major humanitarian catastrophe
This afternoon, March 26, prisoners in wards 4 and 5 of Tabriz prison, who are exposed to the coronavirus, staged a riot. Contrary to its propaganda and while the coronavirus epidemic is widespread in prisons, the mullahs' regime not only refuses to release prisoners even temporarily but keeps putting new prisoners behind bars without quarantining them.
To quash the riot, the Revolutionary Guards and other suppressive forces opened fire on the prisoners, wounding a number of them. Smoke was rising from inside the prison, and the sound of gunshots and ambulances' siren was heard around the prison.
Last week, inmates at Parsilon prison of Khorramabad and Aligudarz prison rioted in protest against being exposed to the virus and attempted to flee the prison after disarming the guards.
As the number of victims of the coronavirus increases exponentially, some inmates have been infected. Six prisoners died from coronavirus in Greater Tehran Prison (Fashafuyeh), which lacks the minimum hygienic facilities. Patients infected with coronavirus are not isolated, nor are they quarantined at this prison.
At Ghezel Hesar Prison, a number of prisoners are also infected with coronavirus, and some have died. Gohardasht and Evin Prisons, as well as Qarchak Women Prison and dozens of other prisons in Tehran and Alborz province are in similar conditions.  Prisons in other provinces are even worse. Most Iran prisons are filled two or three times their capacity.
Mrs. Maryam Rajavi, President-elect of the National Council of Resistance of Iran (NCRI), said that the death of prisoners in Fashafuyeh prison would be the start of a chain of deaths that constitutes a significant crime against humanity by the mullahs' regime because it refuses to release the inmates. She reiterated the need for the international community's intervention and urgent action to secure the release of prisoners, especially political prisoners, and to prevent thousands of prisoners from being victimized.
The UN High Commissioner for #HumanRights should immediately urge the regime in #Iran to accept an international delegation to visit the Prison of Tabriz to find out about the fate of prisoners there #COVID19https://t.co/wlBnEbmW2l

— Maryam Rajavi (@Maryam_Rajavi) March 26, 2020
Secretariat of the National Council of Resistance of Iran (NCRI)
March 26, 2020