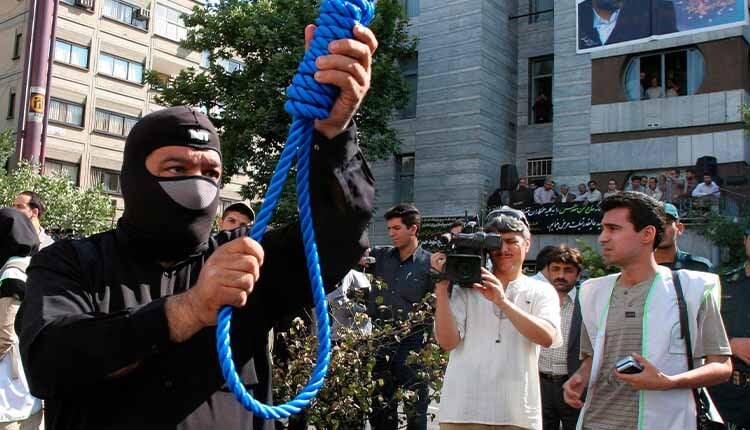 On December 3, the Iranian regime's Supreme Court upheld the death sentences of two young protesters, Mohammad Mahdi Karami and Seyed Mohammad Hosseini.
Both were accused and charged with being complicit in the murder of a Basij member in Karaj. According to the Iran Human Rights Society, after only six days of so-called judicial proceedings, a court has sentenced them along with 13 other minors and youth with "corruption on earth" for the same charge. The public defender of Mohammad Hosseini has quoted him as saying that they were forced to confess to the killing under torture.
According to Iran Human Rights Monitor, Mohammad Mehdi Karami, 22, is a national Karate champion who won many medals. Arrested and brutally beaten by security forces on November 5, 2022, he was considered gone and left to perish on the ground. Once the agents realized Mehdi was still alive, he was taken away for interrogation and torture. He was deprived of medical care, the source added.
Another protester, Mohammad Brughani, accused of wounding a security agent as well as arson, was charged with "Moharebeh" (waging war against God), and his appeal was rejected by the Supreme Court on January 2.
On January 3, the Chief Justice of Mazandaran province announced that another protester, Mohammad-Mehdi Mohammadifar, has received two death sentences on charges of "corruption earth" for arson, destruction of property, and acting against national security.
The Iranian regime is notorious for violating human rights, particularly depriving dissidents of due process. Tehran literally uses 'Kangaroo courts' with a great deal of media fanfare as a weapon, trying to intimidate the public by parading beaten protesters on the court bench after extracting their forced confessions and airing them on state TV.
In the face of executions & massacres, which are the primary instruments of the religious dictatorship in #Iran, our people's response can be summed up in Resistance Units, uprisings, and the great army of freedom for the clerical regime's overthrow.#IranRevolution pic.twitter.com/Q7hGdRoDo5

— Maryam Rajavi (@Maryam_Rajavi) December 13, 2022
Amnesty International also accused the regime's authorities of "seeking the death penalty for protesters in sham trials" by so-called "Revolutionary Courts designed to further repress the popular uprising."
According to human rights activists, around 100 arrested protesters during the nationwide uprising are sentenced or facing capital punishment. The Iranian opposition, Mujahedin-e Khalq (MEK), network inside Iran has reported that more than 30,000 others are languishing in the regime's prisons and security safe houses.
Since the early 1990s, Iran has frequently been hit by nationwide uprisings and provisional revolts. Every time when thousands of protesters have taken to the streets to call out the state for socio-political liberties or even economic demands, the clerical regime has responded by gunning down protesters, conducting mass arrests, and annihilating dissidents.
Nonetheless, the new wave of uprisings that began with the death of Mahsa Amini, a Kurdish woman who was visiting relatives in Tehran and was brutally beaten by the immoral vice squad, burst out a nationwide condensed rage that revolted against 43 years of oppression, discrimination, and corruption.
But unlike the November 2019 uprising, when the regime killed more than 1,500 protesters and temporarily silenced the popular revolt in less than a week, the current uprising is nowhere near quietening.
Still, every funeral turns into a protest, and every economic shock can inflame nationwide wrath. Every night, protesters attack bases of security forces with Molotov cocktails and torch signs and monuments of the regime's "sacred figures." The ruling theocracy is indeed sailing too close to the wind.
Facing a policy conundrum on how to address their existential crisis the ruling theocracy is split into two opposite fronts. A majority of state officials, even top-ranking clerics from the Qom seminary, opposed the executions and went out of their own way to argue against the Qisas and Moharebeh charges. They fear that killing the protesters will radicalize the uprising and lead to a mainstream armed battle between the state and the nation.
Watch our latest and judge if Khamenei is gambling his own fate with the execution of #Mohsen_Shekari and other protesters who have been sentenced to death during #IranRevoIution2022. pic.twitter.com/8OlQ8EjHaV

— NCRI-FAC (@iran_policy) December 11, 2022
Others, those closer to Supreme Leader Khamenei, have come against their peers and zealously defend the hangings and warn that anything short of a "decisive action" will "embolden the rioters."
The nationwide uprising has also triggered a global wave of support from governments, NGOs, and a wide range of artists and celebrities. Dozens of European lawmakers declared political sponsorship of Iranian protesters to shield them against execution.
While the Iranian regime has stifled the slightest bit of freedom of expression or even protest, an entire nation that is deprived of socio-political liberties and economic security has no other option to rise up and revolt.
For about its entire authoritarian life span, the regime's security forces have systematically resorted to absolute violence, and protesters either had to yield to tyranny or die while trying to challenge it peacefully.
However, with nothing more to surrender but their very existence, the people of Iran are now defending themselves, and the regime wants to fully punish protesters to unlearn just that. Mohsen Shekari, a 23-years-young protester, who was hanged on December 8 last year, was charged with wounding a Basij member and barricading the street. A ruling that was even against the law under the unlawfulness of the regime itself.
As with all human values and ideals, justice and freedom are as contagious as they are inspiring. But no nation is alike, and no regime either. It took humanity two world wars and the suffering of several generations to understand that sometimes change requires more sacrifice than offering consoling words.
The clerical dictatorship has effectively killed all hopes of reform and peaceful change, and consequently, Iranians are resorting to the only means available. If the world wants to show concern, it's high time to support the Iranian people to take down their tyrants.