THIS PAGE WILL BE UPDATED WITH THE LATEST NEWS
UPDATE: 10:00 PM CET
Intelligence Affiliated Expert Tells State TV About PMOI Popular Potential
During an interview with the state TV, Javad Mogoei, an alleged reporter and affiliated with the regime's intelligence agencies highlights the popularity that the People's Mojahedin Organization (PMOI/MEK) have enjoyed before the bloody crackdown of 1981 in Iran.
Javad Mogoei: "The Rajavi Organization was re-assembled inside the prison since 1975. When they were released from prison in 1979, they had about 150 people."
Moderator: "But when Rajavi gave lectures in Behesht Zahra in the same year, there's a huge crowd sitting there."
Javad Mogoei: "In my opinion, the main question should be how the 150-member organization in February 1979, becomes a militia of 100,000- 150,000 strong? And in a passionately revolutionary new society, the organization starts to attract and recruit members from the street without any rival. And in two years, this number reaches 100,000 to 150,000 people; there has been talking about various numbers. But on June 15, 1981, their newspaper had a circulation of 600,000 which is not a small number."
---
UPDATE: 9:00 PM CET
Former Iranian Diplomat at the Iranian Embassy in Oslo Charged With the Nygaard Assassination in 1993
On Thursday, Norwegian Broadcasting Corporation reported that a Lebanese national and a former Iranian diplomat at the Iranian regime embassy in Oslo have been charged with complicity in the assassination attempt on a Norwegian publisher.
According to NRK on Friday, Kripos, the Norwegian National Criminal Investigation Service has been investigating the case for 12 years, ever since it was resumed in 2009.
William Nygaard, former head of the Norwegian publishing company Aschehoug and former chairman of the Norwegian Broadcasting Corporation, was responsible for publishing the Norwegian edition of Salman Rushdie's novel, The Satanic Verses.
According to reports, in 1993, based on a fatwa (a religious decree) from Ruhollah Khomeini, the former Iranian regime's Supreme Leader issued against Salman Rushdie and his publishers, William Nygaard was hit by three shots outside his home in Holmenkollåsen when he was driving to the office in Aschehoug publishing house.
Khaled Moussawi, who lived in Oslo in the 1990s, and the Iranian regime embassy's first secretary who had a background from the Revolutionary Guards are at the top list of suspects in this case. The Norwegian police surveillance service registered that the Iranian diplomat had many contacts in a criminal environment in Oslo.
The Iranian embassy is now accused of having housed a man who participated in an assassination attempt on a Norwegian citizen.
---
UPDATE: 2:00 PM CET
Iranian Shipment of Narcotics Caught in Azerbaijan
Customs officials announced of Azerbaijan seized a shipment of heroin that had entered the country from Iran. According to Radio France on November 11, the head of the Customs Commission of the Republic of Azerbaijan, Col. Safar Mehdiyev announced via Twitter that his agency has discovered and seized a shipment of 600 kilograms of narcotics embedded in an Iranian truck carrying raisins to Moldova
---
Isfahan Protests Experiences High Turnout On Fifth Day
پنجمین روز تجمع اعتراضی کشاورزان خشمگین اصفهان در پل خواجو برای زاینده‌رود
Today, angry people and farmers of Isfahan gathered for the fifth consecutive day, to protest the water shortages and the drying up of the Zayandehroud River.
---
UPDATE: 1:30 PM CET
Heavy Rains and Flooding Hit Northern Iran
جاری شدن سیل در معابر رامسر و بسته شدن راه‌های ارتباطی
Deputy director of the regime's Crisis Management Organization in Mazandaran reported about the flooding of at least 10 villages in the province. Heavy rains from last night and this morning have caused water levels to rise and flooded streets and alleys in Ramsar City. The lack of a proper drainage system and conduction channels in the country's rainiest region has hurt many people.
---
UPDATE: 10:00 AM CET
Regime Insiders Are Telling Khamenei Has Injected Pfizer, Domestic Vaccine Expert Says
Answering a question by state TV about the most disturbing news he had heard, Reza Alizadeh Yazanabad, one of the manufacturers of Barakat domestic vaccine said: "When I heard that he (Ali Khamenei, Iranian regime's supreme leader) was vaccinated with Pfizer. They were telling that he didn't inject Barakat, rather it was Pfizer put in the Barakat vaccine bottle. I mean, I even heard it from the insiders! Don't even think they were from abroad, no sir! People here were saying that his excellency was vaccinated with the Pfizer vaccine. How is this possible?"
---
UPDATE: 9:00 AM CET
---
Villagers in Kermanshah Province Clash with Security Forces
درگیری مردم معترض روستای شش بید شه ژوی از توابع دهستان دولت آباد شهرستانروانسر با نیروهای سرکوبگر ان
On Thursday, November 11, protesting locals from the village of Shashibid Olya in Ravansar County, Kermanshah Province, obstructed mining activities in the village pastures. The incident resulted in the state dispatching security forces that clashed with the locals. Repressive forces fired at the villagers, injuring two women named Zinat and Khavar. Also, four other protesting citizens named Haidar Ghanbari, Amin Mohammadi, Abdullah Ghanbari, and Mohammad Mohammadi were arrested and taken to an unknown location.
Two other citizens of this village named Habib Ghanbari and Naseh Salehi have been imprisoned in Dieselabad prison in Kermanshah for 40 days for the same reason. Ravansar prosecutor, Moslem Almasi cooperates with the mine owners, and the arrests were ordered by him.
---
"They Celebrated the Executions With Sweets"—Former Political Prisoner Recalls Iran's 1988 Massacre in Court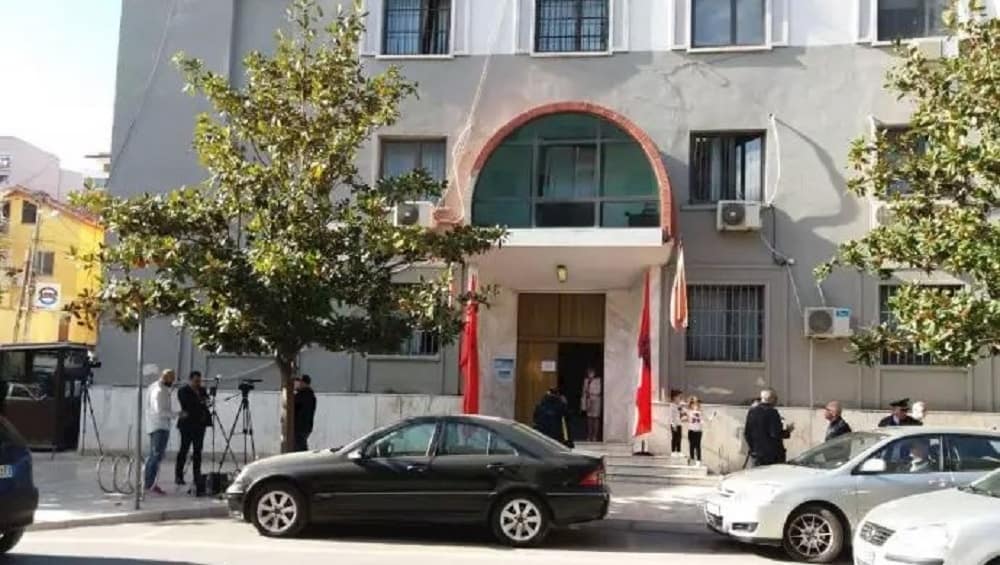 On Thursday, the District Court of Durres, Albania, convened for the thirty-sixth session of the trial of Hamid Noury, an Iranian prison official charged with torturing inmates in the Gohardasht prison (Karaj) and taking part in the 1988 massacre of thousands of political prisoners. Noury was apprehended by Swedish authorities during a trip to the country in 2019. Noury is now standing trial in a court where many of his victims are giving harrowing testimonies of how he and other regime officials brutally tortured prisoners.
---
Teachers Protest in 53 Cities Across Iran
On Thursday, November 11, hundreds of teachers, trainers, and educators rallied outside the local education departments in 53 cities in 22 provinces across Iran, according to prior notice. They protested officials for failing to pay overdue salaries and to increase their salaries based on skyrocketing prices. In recent months, dire living conditions have imposed unbearable pressure on millions of teachers and educators while they see no path to obtain their inherent rights except flooding onto the streets and openly declaring their grievances.
---
Intelligence Agents Kill Two Baluch Men in SE Iran
Intelligence agents killed two Baluch men in Jask, southeastern Iran. According to the Baloch Campaign website, the two men were identified as Morad Ahardadi and his brother-in-law Khodadad. The two men were ambushed by agents in the mountains. An informed source said Intelligence agents were waiting for them to pass and opened fire on them. This is the sixth case in November that security forces or police shoot and kill civilians in Iran. Iran's state forces carry out these shootings without any legal implications and with impunity. From November 2 to November 9, five men were killed by state forces in northwestern, western, and southeastern Iran.
---
Prisoners Are Dealt With as Slaves in the Central Prison of Karaj
Prisoners are dealt with as slaves by the authorities of the Central Prison of Karaj, said a prisoner released from this prison. Food and other stuff are provided just enough to keep the prisoner alive.
The prisoner said:
Food is little and very low in quality. The bread is not edible, at all. The bread is a piece of dough that has not been cooked enough. The prison's store sells items for double the real price and foodstuff become more expensive by every passing day.
---
Read more: Iran News in Brief – November 11, 2021