THIS PAGE WILL BE UPDATED WITH THE LATEST NEWS
UPDATE: 10:30 PM CEST
Iranians Commemorate Late Sir David Amess in Sweden
تظاهرات ایرانیان آزاده همزمان با دادگاه دژخیم حمید نوری- استکهلم -گرامی‌داشت یاد دیوید ایمس
Today, Iranians and supporters of the People's Mojahedin of Iran Organization (PMOI) staged a demonstration in Stockholm, Sweden, where the trial of Hamid Noury, one of the perpetrators of the 1988 massacre was taking place. The demonstrators also honored the memory of British MP David Amess who was murdered in London last Friday.
---
Four Prisoners Were Executed in Iran
The Iranian regime's judiciary executed a prisoner in Zahedan prison. According to HRANA, the victim's name was Ibrahim Musa Shahbakhsh and he was the son of Ebrahim. He was transferred to the quarantine of Zahedan Central Prison two days ago. In the same prison, the authorities had executed another prisoner, identified as Ismail Qassabi, at dawn on Monday, October 11.
In Zanjan Prison, three prisoners named Hamed Jafarzadeh (41), Soheil Hojjatfar (39), and Younes from the City of Bonab were executed on drug-related charges.
---
UPDATE: 3:00 PM CEST
Water and Wastewater Workers in Ahvaz Protest
تجمع اعتراضی کارکنان شرکت آب و فاضلاب اهواز ۲۶مهر
Employees of the Ahwaz Water and Sewerage Company gathered in front of the provincial office of the company on Monday, to protest against the official's refusal to pay their salaries for several months.
---
UPDATE: 7:30 AM CEST
Iran: Coronavirus Death Toll Surpasses 457,800
The People's Mojahedin Organization of Iran (PMOI/MEK) announced this afternoon, on Saturday, October 16, 2021, that the Coronavirus fatalities in 547 cities had surpassed 457,800. In Tehran the death toll has passed 107,226, Khorasan Razavi 37,590, Isfahan 31,045, Khuzestan 28,075, West Azerbaijan 16,713, Fars 16,585, Lorestan 15,215, Qom 12,550, Kerman 12,187, Hamedan 8,553, Central Province 8,338, Kermanshah 8,324, Hormozgan 7,710, Yazd 7,528, Semnan 6,165, Bushehr 5,149, and Kohgiluyeh and Boyer-Ahmad 3,314.
---
Iranian Resistance Units Call for Regime Change and a Free State
"Democracy & freedom with Maryam Rajavi," say MEK Resistance Units
In recent days, the network of the Iranian opposition inside Iran carried out anti-regime activities across the country. The internal network of the People's Mojahedin Organization of Iran (PMOI/MEK), known as the Resistance Units, has organized a vast campaign in recent days against the mullahs' dictatorship ruling Iran.
The Resistance Units took to graffiti and spread anti-regime slogans against the regime's supreme leader Ali Khamenei.
---
Iran: Pensioners Hold Protest Rallies in Ahvaz, Isfahan
Retirees and pensioners held protest rallies in Ahvaz and Isfahan cities across Iran on Sunday, protesting poor living conditions, low wages, and the regime's lack of response to their demands. In Ahvaz, the protesters gathered in front of the offices of Khuzestan Steel Retirement Fund.
In the past months, retirees have been regularly organizing protests in various cities. But regime officials refrain from addressing the pensioners' demands. The protesters complain that their meager pensions are not nearly enough to cover their most basic expenses and are often delayed for several months.
October 17 – Ahvaz, southwest #Iran
Retired Khuzestan steel workers and pensioners rallying and protesting officials' refusal to see to their long-raised demands regarding their wages and deteriorating living conditions.#IranProtests#اعتراضات_سراسری pic.twitter.com/ygn3gUVore

— People's Mojahedin Organization of Iran (PMOI/MEK) (@Mojahedineng) October 17, 2021
---
Sir David Amess, a Tireless Advocate for a Free Iran, Murdered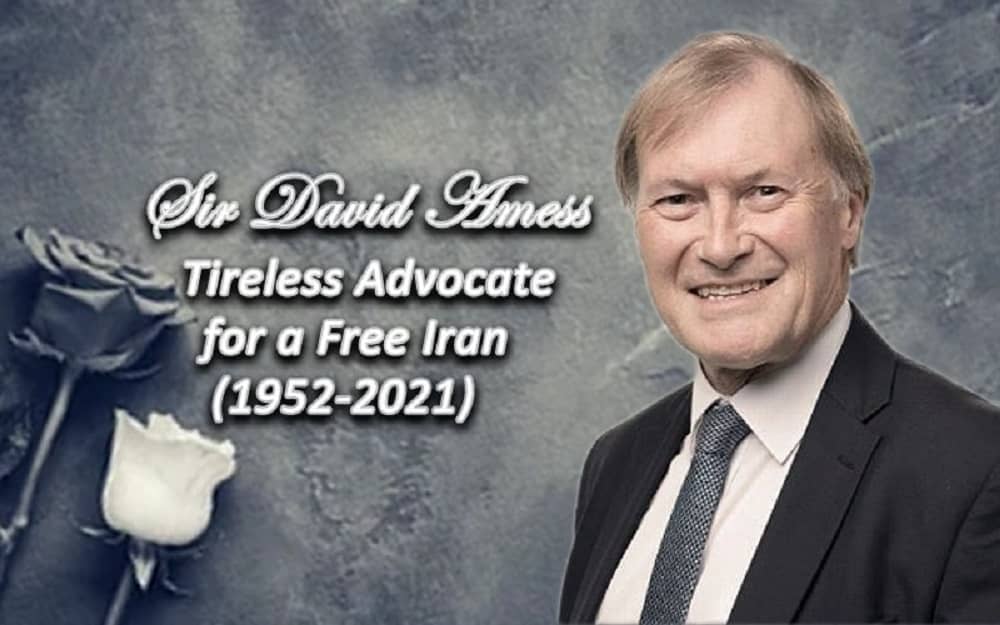 On October 15, the people of Iran and their organized Resistance lost Sir David Amess MP, one of the kindest, nicest, most gentle people in politics, as Prime Minister of the United Kingdom Boris Johnson portrayed him. According to eyewitnesses Sir David was stabbed multiple times during a constituency surgery in Belfairs Methodist Church in Leigh-on-Sea, Excess.
---
Poverty Runs Rampant in Iran Due To State Mismanagement and Corruption
The people of Iran have become much poorer in the past years. The middle class has all but diminished and more than 80 percent of the Iranian people live under the poverty line. The thought and sight of people sleeping in empty graves and ditches, on roofs, or in abandoned refrigerators batter the conscience of every human being. Today, they are a daily sight everywhere in Iran, under the rule of the mullahs. The regime's officials and media talk and write about these people easily and without shame.
---
Read more: Iran News in Brief – October 17, 2021