Various cities across Iran witnessed protests by all walks of life, according to reports tallied by the People's Mojahedin Organization of Iran (PMOI/MEK), from October 22 to October 27.
On Tuesday morning, October 27, a group of selected kindergarten teachers gathered in front of the regime's Department of Education office in Iran's central province. They demanded unconditional employment.
Similarly, on Tuesday, Literacy Movement's teachers in Dezfoul, southwest Iran, held a protest gathering, demanding their employment situation to be clarified immediately.
On Saturday, October 24, a group of female teachers in Yazd, central Iran, held a protest gathering. These teachers chanted: "From the pain of bread to the pain of heart, no payment at all."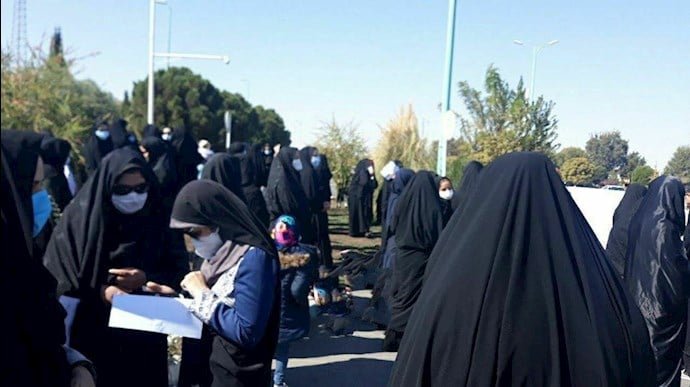 It is worth noting that the regime has recently increased the price of bread, thus depriving a large part of the Iranian people of their most important, and for many, the only food.
Contract workers of the municipality in the city of Jahrom in Fars province, eastern Iran, gathered in protest for not receiving their wages for three consecutive months.
Locals in Ardakan, Yazd province, central Iran, gathered in front of the parliament member of this city on Saturday. They protested the issuance of new licenses for steel units in this town.
On Saturday, over 1000 fired Barfab factory workers in Chaharmahal and Bakhtiari Province, southwest Iran, held another protest gathering. These workers protested their Job and livelihood uncertainty.
Workers on the Ahar-Meshkinshahr road construction project in Ardebil province in northwest Iran went on strike again on Saturday, demanding their delayed wages.
On Friday, saffron growers in Kadkan city gathered to protest the sharp drop in the price of saffron flowers and the government's failure to buy this product at a reasonable price.
It is worth noting that saffron's price has reached its lowest limit in the last few days.
The ongoing protests in Iran show the Iranian people consider the regime as the real source of all economic and social problems. These protests, simultaneous with the regime's constant oppressive movements, are very important. They are in line and the continuation of the significant Iran protests in November 2019, which rattled the regime's foundations.
The regime is neither willing nor able to address people's economic grievances. Therefore, the regime's mismanagement of all the economic and social crises, coupled with the coronavirus outbreak, has put more pressure on the Iranian people. Yet, the society's restiveness has increased, terrifying the regime and its officials.