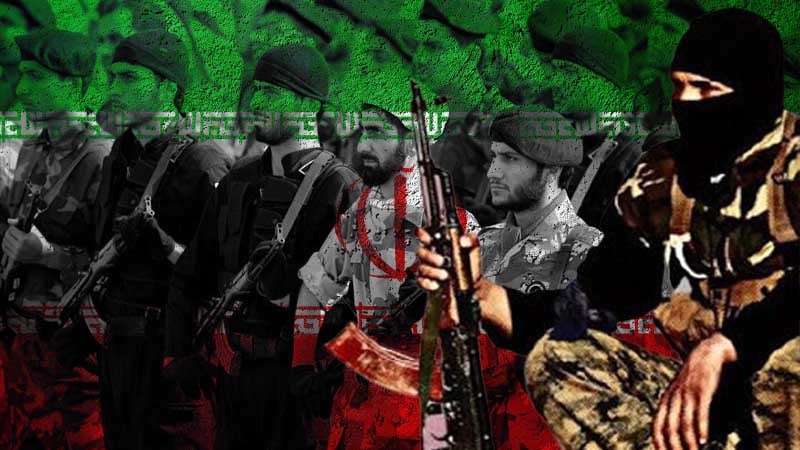 It was recently reported that as recently as January, the Iranian regime was actively planning to carry out a terrorist attack on American soil. At the time, the US National Security Agency intercepted communications that included discussion of a concrete plot among operatives in the Islamic Revolutionary Guard Corps' foreign special operations division, the Quds Force. Officers in the hardliner paramilitary had apparently fixed upon Army Vice Chief of Staff General Joseph M. Martin as a target and were planning to stage an attack upon Fort McNair in Washington DC as part of an effort to kill him.
The attack was evidently discussed in the context of the IRGC's persistent desire for revenge following the January 2020 killing of Qassem Soleimani, who was the longstanding head of the terrorist Quds Force and the second most powerful figure in Iran after the regime's Supreme Leader Ali Khamenei.
In 2013, a close associate of the Quds Force was sentenced to 25 years in prison by a US federal court, based on his attempt to facilitate the bombing of a restaurant frequented by Saudi Arabia's ambassador to the US. While ambassador, Adel al-Jubeir, was the only specific target of the Plot, the Iranians involved in the Plot made it clear that they were prepared to accept the deaths of hundreds of innocent bystanders – a very likely outcome if the Plot had not been thwarted by US intelligence and law enforcement.
Iran's Regime Pays Terrorist Quds Force Mercenaries Five Times More Than Iranian Nurses
The NSA's revelation of the recent Plot makes it clear that the Quds Force and the underlying Iranian regime have not meaningfully altered their objectives or their tactics over the past decade. By all accounts, the effort to kill General Martin would have followed much the same pattern as the earlier assassination plot, with the same disregard for the collateral damage that would have almost certainly followed. And while these two incidents are unique in terms of the amount of attention they received from American media, it would be foolish to assume that no other plots were unraveled or abandoned in the intervening period.
In fact, if we look outside the United States, it is plain to see that Tehran's willingness to stage attacks against Western adversaries has not diminished but may have actually grown. This was made especially obvious in the summer of 2018 when multiple European authorities disrupted a plot to set off a bomb near Paris at a densely-packed gathering of Iranian expatriates and European citizens. As in 2011, the Plot was hatched with the intention of killing one specific individual, in this case, the Iranian Resistance leader Maryam Rajavi. And once again, originators of that plot did not hesitate to press forward when it became clear that the initial blast might have killed hundreds and that the resulting stampede might have raised that death toll even further.
The 2018 bomb plot was a true testament to the Iranian regime's sense of impunity. Four operatives were put on trial in Belgium for their involvement, one of whom was a high-ranking diplomat named Assadollah Assadi. While stationed at the Iranian embassy in Vienna, Assadi used a diplomatic bag to smuggle the explosives into Europe for use in the attack. Undoubtedly such activities could not have been undertaken without the knowledge and consent of higher authorities, including Foreign Minister Javad Zarif. And Belgian investigators determined that Assadi had not been acting on his own initiative but on explicit instructions from figures high in the regime's leadership.
Iran FM Javad Zarif, and Chieftain terrorist Qassem Soleimani, two side of the same coin
The operation that those figures signed off on was not just one that would have killed expatriate activists on European soil. It also would have most likely killed any number of the hundreds of political dignitaries who took part in the 2018 Free Iran rally, representing the US, most European nations, and various other parts of the world. Such a direct threat to high-profile lawmakers and scholars may have helped motivate Belgian and German officials to file charges against Assadi – the first Iranian diplomat to face prosecution for his ties to terrorism, though certainly not the first to come under suspicion of those ties.
Of course, there should never have been such a high benchmark for actually holding Iranian officials accountable for terrorist activity. Yet even now, the European Union, the United Kingdom, and even the United States seem hesitant to acknowledge that these plots all stem from the Iranian regime's topmost leadership and its theocratic system.
Fortunately, that hesitancy is not shared among all lawmakers and politicians in the countries that are most capable of enforcing that accountability. Various US congressmen, members of the European Parliament, and current and former European government officials have signed their names to statements in recent months, which urged much more assertive policies aimed at confronting Iran's status as the world's leading state sponsor of terrorism.

Those statements, prepared by Iran-focused organizations like the International Committee in Search of Justice, have generally argued for greater economic and diplomatic isolation of the Iranian regime, pending a firm, enforceable commitment to dismantling terrorist infrastructure and abandoning plots against Western targets in perpetuity. One such statement, signed in early January by Former Italian Foreign Minister Giulio Terzi and 20 other officials from a dozen other countries, began by highlighting details of the Assadi plot and declared that "the scope of crime demands that the European Union reviews its approach to Iran."
Although the United States has been comparatively more assertive with the Iranian regime than Europe has, this advice is just as valuable to American lawmakers, especially in the wake of the Fort McNair plot. Unlike its European allies, the US has no trade ties to sever and no Iranian embassies to close, but all Western nations share responsibility for emboldening Iran's recent terrorist plots by never truly holding the regime accountable for its prior actions. This must be rectified immediately and comprehensively with coordinated sanctions and diplomatic pressure, or else that chatter that the NSA picked up in January will continue repeating until disaster strikes.