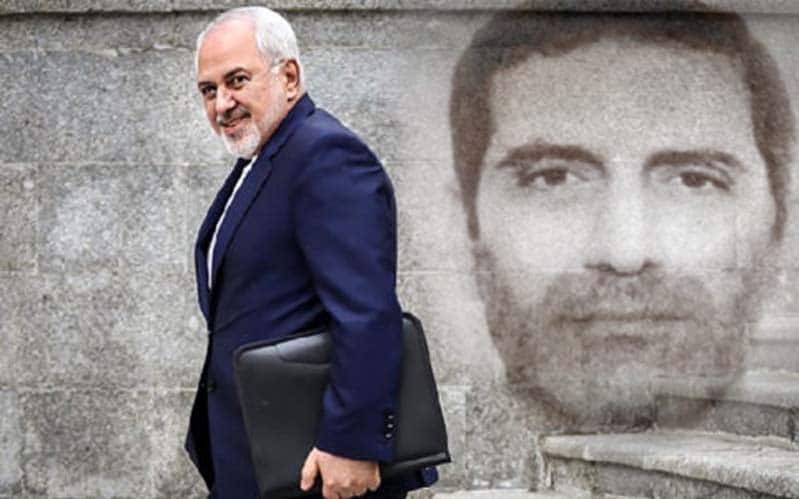 Iranian-European relations encountered a new setback on Saturday when the Islamic Republic executed a journalist who had been living as a refugee in France before being lured to Iraq and then kidnaped and send to Iran. Ruhollah Zam was reportedly subjected to torture as a means of securing a forced confession, which in turn led to his conviction on the charge of "spreading corruption on earth."
Zam's death sentence was carried out promptly after being upheld by the regime's Supreme Court. The speed of that process was likely an indicator of Iranian regime's sensitivity regarding international scrutiny of high-profile cases. That sensitivity is presumably elevated at the present historic moment, as Tehran may be feeling especially vulnerable in the wake of the January 2018 uprising and a similar nationwide protest movement in November 2019. Various public statements from Iranian officials demonstrate persistent anxiety about the prospect of widespread unrest emerging once again.
In a statement responding to that execution, the National Council of Resistance of Iran (NCRI) described the Iranian regime as being "engulfed by deadly domestic and international crises" and using political violence "to create an atmosphere of terror, to intimidate its internal factions, and to thwart the eruption of popular uprisings." The crises in question include growing international awareness of a wide range of malign activities, which pose an ongoing threat not only to the Iranian people but also to the regime's declared "enemies" in the Western world.
About two weeks prior to Zam's execution, this latter category of threat became more prominent with the start of a terrorism trial in Belgium. Among the four defendants in that case is Assadollah Assadi, a professional Iranian diplomat who was serving as the third counsellor at the embassy in Vienna when he was caught smuggling explosives into Europe and handing them off to an Iranian-Belgian couple with instructions to carry them to the French venue hosting a major rally of Iranian diplomats.
Free Iran 2018 Gathering - 30 June 2018 - Villepinte, Paris
This bomb plot was fortunately thwarted in June 2018, but witnesses in the case are quite certain that it would have resulted in hundreds if not thousands of fatalities if the diplomat, the two would-be bombers, and an accomplice had not been arrested. It is also likely that the casualties would have included some of the many European or American political dignitaries who were in attendance to demonstrate their support for Iran's pro-democracy opposition movement, as led by the NCRI and the People's Mojahedin Organization of Iran (PMOI-MEK).
Somehow, these facts have not yet led to a significant shift in European policy toward the regime, but they did create a new outpouring of pressure in that direction. The NCRI and its supporters held virtual conferences and issued statements in the run-up to the trial's first session, emphasizing the need for an assertive approach to Iran policy, with the aim of extending accountability beyond the direct participants in the 2018 terror plot. In urging a 20 year sentence for Assadi, Belgian prosecutors have made it clear that the evidence shows he was acting on orders from Tehran.
That evidence ultimately implicates the regime's Supreme Leader Ali Khamenei and a wide range of his subordinates, including those with whom European officials have interacted at length in recent years. Though some of those officials have routinely praised Iran's Foreign Minister as a moderate on the basis of his Western education and his cheerful demeanor, it is difficult to absolve the nation's top diplomat of responsibility for the actions of those working directly under his office. There is little question that Javad Zarif was aware of Assadi's malign activities, as well as those of the several other Iranian diplomats who were expelled from Europe in 2018 alone.
That awareness would be very much in keeping with other facts that are known about Zarif, even if they are not publicly acknowledged by those who favor dealing openly with representatives of a regime that has so recently plotted terrorism on Western soil. For all his supposed moderate credentials, Iran's Foreign Minister is truly an embodiment of the fundamental lack of separation between the worldviews of the "hardline" and "reformist" factions of mainstream Iranian politics. The broad overlap between those factions was strongly emphasized by participants in Iran's 2018 and 2019 uprisings, as with chants that addressed both factions by name and declared, "The game is over."

It is unfortunate that this messaging was given so little attention by the international community while the unrest was still in full swing. But the importance of such slogans has not diminished in the year since the 2019 uprising was brutally suppressed by the Islamic Revolutionary Guard Corps (IRGC). Regularly leading the way in the suppression of dissent both inside and outside Iran, that hardline paramilitary was called upon to open fire on crowds of protesters last year, which it did without restraint, resulting in roughly 1,500 deaths within a matter of days.
It is hardly a coincidence that the IRGC is also the institution that was reportedly responsible for kidnapping Ruhollah Zam and dragging him back to Iran to face a politically-motivated death sentence. It may therefore be surprising to Zarif's fans in the West that the Foreign Minister has heaped praise on the IRGC and its operatives in the recent past, effectively endorsing strategies that promote asymmetrical warfare against American and European assets while openly threatening citizens of both those regions, including dissident refugees like Zam.
In April 2019, soon after the United States designated the IRGC in its entirety as a terrorist organization, Zarif was personally invited to tour the paramilitary's headquarters – an invitation he not only accepted by later described as a high honor. It was also an opportunity for him to reiterate earlier statements he had made about his relationship with Qassem Soleimani, the regime's top terrorist and the leader of the IRGC's foreign special operations division, the Quds Force, who was later killed in a US drone strike.
Zarif's acknowledgement of weekly foreign policy meetings with Soleimani should have been enough to conclusively undermine the Western notion that these two figures represent broadly divergent political worldviews jostling for dominance in Tehran. It should have served as proof that Zarif's diplomats and Soleimani's terrorists have always represented two sides of the same coin.
It is difficult to explain why this description of the regime hasn't gained more prominence in Western policy circles before now. But it should be more difficult for lawmakers and officials to ignore the situation now that Tehran has repeatedly amplified challenges to the status quo through its attempted terrorist activity and its shameless murder of political dissidents. If European governments still maintain relations with Zarif in the wake of all this, it should only be to hold him and his regime to account for violation of human rights in Iran and the regime's terrorism in Europe and in the region.