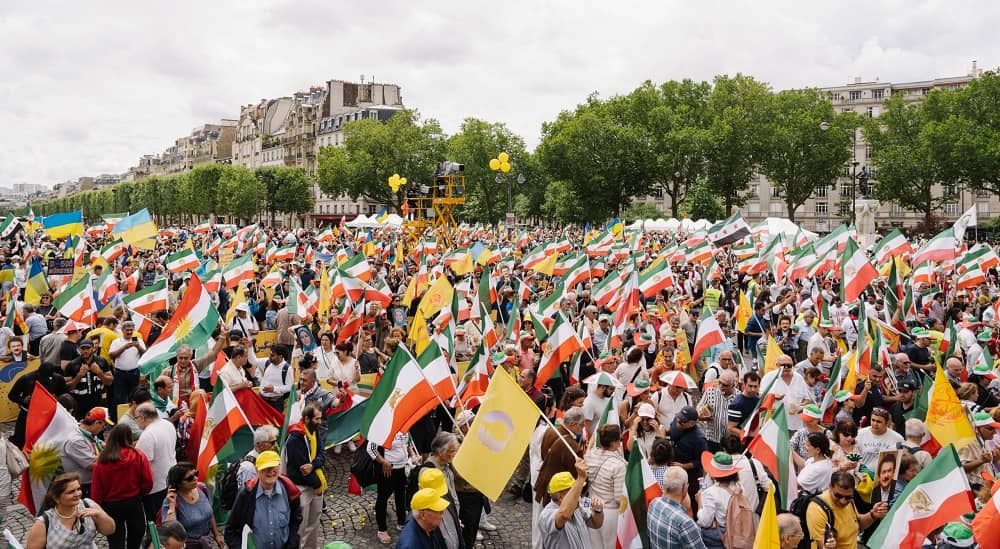 At the end of July, the Iranian regime's Judiciary, which holds a record for executing political prisoners, made an announcement widely covered by Persian-speaking media inside and outside Iran. Among others, the state-run Jam-e-Jam wrote on July 30, "Following the emphasis made by the presidential legal deputy and the spokesperson of the Foreign Ministry about the extradition of the hypocrites [the regime's pejorative to slander the Mujahedin-e-Khalq Organization], now groundwork is being laid for the judicial operation, and for the first time, arrest warrants for 105 of their fugitives have been published."
The newspaper hoped that the alleged "legal process in Iran" would encourage Interpol to take active measures. Jam-e-Jam also quoted the regime's Foreign Ministry spokesperson as saying, "We have pursued a political approach in negotiations with various countries… we hope that the government of Tirana and other countries where this group is present will take responsible action."
The regime's prime objective is to extend its suppression of members and affiliates of the MEK to European soil to silence them and deny them their fundamental rights.
Throughout the years, various state officials have consistently acknowledged that their negotiations with world powers often revolve around the issue of the MEK, stating explicitly "they view their handling of the MEK as a measure of that country's sincerity."
In recent months, the Iranian dissident group in Iran "Ghiam ta Sarnegouni" published documents from the regime's Ministry of Foreign Affairs and the Presidential Organization that revealed the effort of a task force shaped by various ministries, including the Ministry of Intelligence and the Ministry of Foreign Affairs, dedicated to what they call "discrediting the MEK."
As Jam-e-Jam newspaper also clearly mentioned, the regime had abstained from such legal theatrics for the last 40 years, which begs the question, why now?
The recent waves of uprisings, particularly the 2022 protests, significantly magnified the domestic and international weight of the Iranian Resistance movement as an imminent threat to the regime. Despite systematic censorship and attempts to promote mock alternatives, the Iranian Resistance was not sidelined; on the contrary, with the anniversary of the September 16 protests approaching, the Resistance's significance, both internally and internationally, has grown.
The extensive arrests and executions of protesters failed to curb the expansion of the MEK's domestic network, and even arrangements with several Western countries could not prevent NCRI's annual gathering from taking place. Regardless of the various analyses and phony narratives offered by so-called "Iran experts," the regime's primary focus remains the Resistance.
Over the past 43 years, despite suffering the highest casualties and massive suppression both inside and outside Iran, the Resistance movement continues to be the largest and most organized independent Iranian entity fighting the regime.
The Iranian regime is not complaining about an enemy thousands of miles away; it clearly perceives this threat within its own borders and most sensitive points. As the Resistance continues to grow in numbers and spirit, the regime's tight-knit follower base is shrinking in morale and size. Resorting to psychological warfare within its domestic sphere seems to be the only desperate attempt left for the clerical regime.
A clear indication came from Rohullah Zamani Mousavi during his Friday prayers sermon in Islam Abad Gharb, the very city that was liberated 35 years ago by Iran's National Liberation Army.
On July 28, Khamenei's representative recalled the extensive military operation "Eternal Light" and explained why the Iranian regime holds grand ceremonies every year for not being overthrown.
"Due to the expansion of the activities of the hypocrites throughout the country, more attention should be paid to these issues," he boasted.