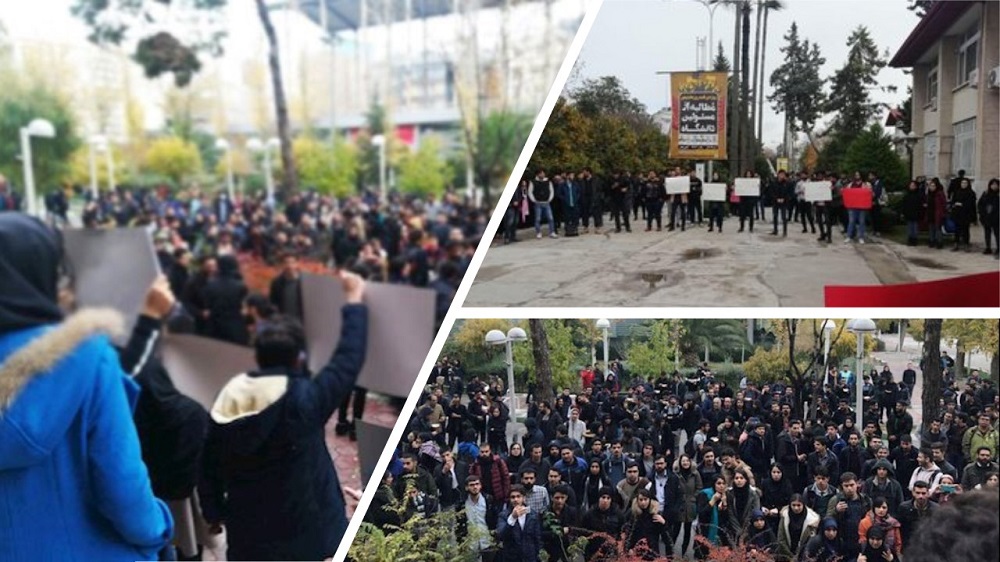 In a detailed directive, the IRGC intelligence office and the regime's MOIS (Ministry of Intelligence) have jointly instructed repressive forces to make necessary preparations to confront students' and youths' protests on the occasion of Student Day in Iran on December 7. The most important part of it is the redline to prevent the spread of protests and demonstrations from universities to streets that would engage locals. Rebellion youths will definitely break this redline.
Some parts of the directive and instructions are as follows:
1- Due to the current intense atmosphere of universities in the last two months and its impacts on students, this year's December 7 is significantly different from previous years, and we should be prepared against massive gatherings in the three days leading up to the Student Day.
 2- Anticipated damages: Should university authorities not permit student organizations to hold non-virtual programs, no specific damages are expected except for non-aligned activities and ruining the regime's credibility in cyberspace. However, if non-virtual programs are permitted, we will face the following:
– Confrontation between aligned and non-aligned students during student programs;
– Possibility of holding rallies and sit-ins by students and non-aligned organizations, especially by some union councils, on days around Student Day (December 16) on campuses to protest non-political issues, the Internet quality, and its costs in recent days;
– Possibility of raising subversive topics and slogans in programs;
– Possibility of challenging speech meetings of the president or any other official due to the government's failure regarding living conditions, the events of the previous November, and the president's promises;
– Possibility of holding pictures of those killed recently;
– Possibility of holding placards and pictures of recently arrested and imprisoned students;
– Inviting problematic speakers by non-aligned organizations;
3- Perceived threats:
– Considering the existing fields to carry out radical actions of student groups, the organizers of such gatherings will definitely consider special programs for December 7 to inflict blows to the system.
 -In previous gatherings, almost all universities were involved, such that the student leaders have gained prestige among partakers. Unlike in previous years, there is a widespread readiness to form university gatherings;
– The peak of students programs will be between December 3 and December 14;
– Professors have had an increasing role in recent protests, including attending gatherings and publishing collective statements. This participation will be more specific on December 7 under students' pressures.
– In case of widespread and radical gatherings, it is possible that the students  break university gates and exit campuses;
– General strikes and non-attendance in classes on days around December 7 are widely expected;
– Most invitees, officials, and heads of forces are reluctant to deliver speeches in universities in the ceremonies of December 7 of the current year. For this reason, revolutionary student organizations may face problems in finding their desired speaker.
4- Actions that can happen, although weak, are as follows:
– Possibility of committing harmful actions;
-Using micro-birds for terrorist activities;
– Possibility of assassinating state and military officials who attend the ceremonies.
5- Solutions and suggestions:
-Monitoring activities of student organizations' leaders in virtual and real space; monitoring possible statements and calls.
– Overseeing problematic student activities, preventing problematic elements and security convicts, even in the form of a video conference.
– Alarming the Basij ranks to be on alert.
– Alarming security organizations in universities to monitor the entry and exit of students and guests, and to prevent unknown persons;
– Obtaining a commitment from problematic individuals in universities to not engage in criminal activities in cyberspace;
– Forming a meeting of the provincial security council for Student Day and creating alertness in the student commission in the governorate;
– Increasing interaction between intelligence agencies, university security, university officials, student Basij, and professors.
National Council of Resistance of Iran (NCRI)
Security and Counterterrorism Committee
November 29, 2022