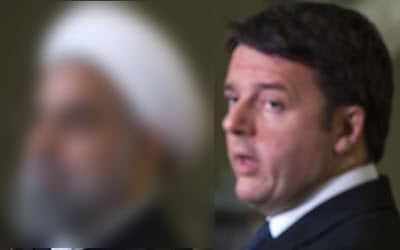 NCRI – Commenting on Wednesday on Italian Prime Minister Matteo Renzi's visit to Iran this week, Shahin Gobadi of the Foreign Affairs Committee of the National Council of Resistance of Iran (NCRI) told The Local Italy that the visit would help the mullahs' regime in further suppressing the people of Iran.
Excerpts from The Local Italy's report "Should Italy really be getting so cosy with Iran?" (April 13, 2016):
Meanwhile, visits by European officials and the money earned by Iran through associated trade deals only serve to embolden the regime to suppress dissent at home, argued Shahin Gobadi, from the foreign affairs committee of the National Council of Resistance of Iran (NCRI), which had urged Renzi to cancel his trip.
In its 'Death Penalty 2015' report, published on April 6th, Amnesty International said that last year "Iran alone accounted for 82 percent of all executions in the Middle East and North Africa".
"Rouhani has explicitly endorsed the executions as examples of 'God's commandments' and 'laws of the parliament that belong to the people'," Gobadi told The Local.
Gobadi also pointed to Iran being a close ally of Syria's Bashar Assad as well as the recent testing of long-range ballistic missiles, capable of carrying nuclear warheads, that were inscribed in Hebrew with the regime's axiom, 'Israel must be wiped out'.
"All of this begs the question that so far as it concerns the Iranian people, and the international community, what is to be gained from such visits? What will be their impact, other than to suppress descent and give propaganda fodder to the regime for internal consumption?"