THE CONTENT OF THIS PAGE WILL BE UPDATED WITH THE LATEST NEWS
UPDATE: 7:00 PM CEST
Strikes and Protests Throughout Iran on Tuesday
More and more socio-political movements rise to the occasion and make their voices heard throughout the country. In some cases, the regime's officials have increasingly become frightened of getting things out of control and asked for security forces to engage. The city of Kerman in the Southwest of the country is one such example.
May 17 – Kerman, SE #Iran
Workers of the Manujan mine took to the streets outside the Governor's Office to protest the incompetence of city officials. #IranProtests pic.twitter.com/ja9AlBE0QE

— Iran News Wire (@IranNW) May 17, 2021
#IranProtests
Kerman—for the second consecutive day, miners of Asminoun Chromite Mine at the Manoojan district continued their protests. Employers refuse to pay miners' rights. Authorities have dispatched security forces countering workers' peaceful protests. pic.twitter.com/o7UKyHYtkq

— Iran News Update (@IranNewsUpdate1) May 18, 2021
Other cities have been anything close to silent. In Tehran alone, there have been several rallies and protests on Tuesday from students, bus drivers, literacy movement teachers, unemployed teachers, college-graduated teachers, employees of the Crypto-Land company, employees of Iran Air aviation company, creditors of the Municipality's Housing Cooperative in the Golestan district, and Health Ministry volunteers.
May 18 – Tehran #Iran
Tehran bus drivers of the Vahed Bus Co. gathered today outside the City Council to demand revisions in the Job Classification Plan. #IranProtests pic.twitter.com/ONdaKjV2KM

— Iran News Wire (@IranNW) May 18, 2021
May 18 – Tehran, #Iran
Unemployed teachers from across the country gathered again outside the Parliament to demand jobs.
"Cry out for your rights!" they chant. #IranProtests pic.twitter.com/jUwH3Nt6NA

— Iran News Wire (@IranNW) May 18, 2021
Also on Tuesday, reports from other cities displayed the people's frustration with their living and work conditions. Pipe factory workers in Ahvaz, cement factory workers in Sabzevar, retired employees of the Steel & Mine Industry in Isfahan, miners of Anjar Copper Mine in Ahar, as well as students in Qazvin, Shahrekord, and Tabriz joined their fellow countrymen and women to protest against the inhuman policies of the Iranian regime and its local substitutes.
#IranProtests
Isfahan—retirees of the Steel & Mine Industry rallied in front of the retirees' fund protesting officials' failure to meet their demands.
In recent weeks, they staged several rallies pursuing their inherent rights but only won officials' indifference and inaction. pic.twitter.com/IxrIFP5Dqx

— Iran News Update (@IranNewsUpdate1) May 18, 2021
Officials in Iran refused students' protests against in-person exams putting their lives at risk in crowded and contaminated schools with #coronavirus.
Footage of the cities of Tehran, Qazvin, Shahrekord, Mashhad, and Tabriz. pic.twitter.com/uJroJ5A2Kr

— Iran News Update (@IranNewsUpdate1) May 18, 2021
---
UPDATE: 8:30 AM CEST
Mothers of November 2019 Martyrs Call for Boycotting Iran Regime's Sham Presidential Election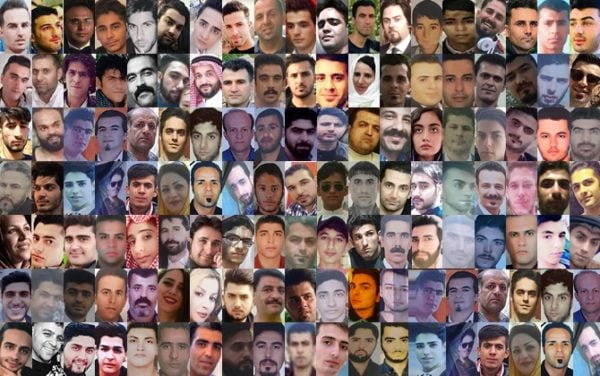 The Iranian regime will hold its sham presidential election on June 18. As the date draws closer, more Iranians join the campaign for boycotting the farce elections. Recently, a video from Iran shows several mothers of the martyrs of the November 2019 uprising bravely call for the boycott of the regime's sham Presidential election. These brave mothers call for regime change and announce that their vote is the overthrow of the regime by the Iranian people.
I salute the brave mothers of the martyrs of the November 2019 uprising. They safeguard their children's sacrifice by calling for the clerical regime's overthrow and boycotting the mullahs' sham election. #IranProtests

— Maryam Rajavi (@Maryam_Rajavi) May 17, 2021
Mothers of November 2019 Martyrs Call for Boycotting Iran Regime's 2021 Sham Presidential Election
---
Iran: Coronavirus Fatalities in 541 Cities Are More Than 291,100

The People's Mojahedin Organization of Iran (PMOI/MEK) announced on Monday, May 17, 2021, that the Coronavirus fatalities in 541 cities are more than 291,100. The number of victims in Tehran has passed 67,721, Isfahan 19,225, Khuzestan 18,029, Khorasan Razavi 17,810, East Azerbaijan 11,898, Mazandaran 11,830, West Azerbaijan 10,868, Fars 9,497, Alborz 8,003, Golestan 7,110, Hamedan 6,513, Central Province 6,063, Kurdistan 5,012, Ardabil 3,690, Qazvin 3,384, Zanjan 3,200, Ilam 3,096, Bushehr 3,039, and Kohgiluyeh and Boyer-Ahmad 2,289.
#Iran Coronavirus Update

More than 291,100 people have died of the novel #coronavirus in 541 cities checkered across all of Iran's 31 provinces, according to the Iranian opposition PMOI/MEK.

Full Reporthttps://t.co/XfyE7beXri pic.twitter.com/NByXfYb1dj

— People's Mojahedin Organization of Iran (PMOI/MEK) (@Mojahedineng) May 17, 2021
---
Iran Elections 2021: Increased Tensions as Candidates Register
592 "candidates" have registered for the Iranian regime's June 18 sham presidential elections. However, the majority of these "candidates" are merely pawns in the regime's elections charade and will be disqualified by the Guardian Council, the 12-member body that vets all candidates. The members of the Guardian Council are either directly appointed by the regime's supreme leader Ali Khamenei or by the regime's judiciary, whose chief is directly appointed by Khamenei.
---
Father of Three Border Porter Killed by IRGC in NW Iran
A border porter or "kolbar" was killed yesterday by the Islamic Revolutionary Guard Corps (IRGC) in Salmas, northwestern Iran. According to the Hengaw Organization, the man was identified as 46-year-old Zabet Alkhani. Zabet was married and was a father of three children. The report said the IRGC started shooting without warning at the border porters who were crossing the border, killed Zabet.
---
Public Outrage Over Mishandling of a Poor Street Vendor By Regime's Security Forces
The state attorney of Shar-e-Rey, neighboring the Iranian capital, announced on Monday that 3 officers who have been beating street vendors are now arrested. This comes amid public protests and increasing calls for investigation after a video recording of the latest case of such mistreatment went viral.
May 13 – Shahr-e-Rey, Tehran #Iran
Municipal agents brutally beat a street vendor who was unable to pay them their weekly bribe.
Officials claimed the agents were arrested because the video caused a national outcry. But this is not an isolated case. pic.twitter.com/20s73SIWkn

— Iran News Wire (@IranNW) May 17, 2021
---
Iran: Wolves in Sheep's Clothing
There are many figures among Iranian politicians who used to wear clerical garb. However, they took off clerical clothes and wore suits pending their positions. Gholamhossein Karbaschi, the former Tehran Mayor and the current secretary-general of Executives of Construction Party, is one of the most famous officials in this context. Following the 1979 Revolution in Iran, Khomeini identified Karbaschi as Hujjat al-Islam [a mid-level religious title], appointing him as his representative in the Gendarmerie Office. Thereafter, Karbaschi never wore clerical clothes.
---
Iran News in Brief, May 18, 2021
Iran news in brief, May 18, 2021
---
Read more: Iran News in Brief – May 17, 2021