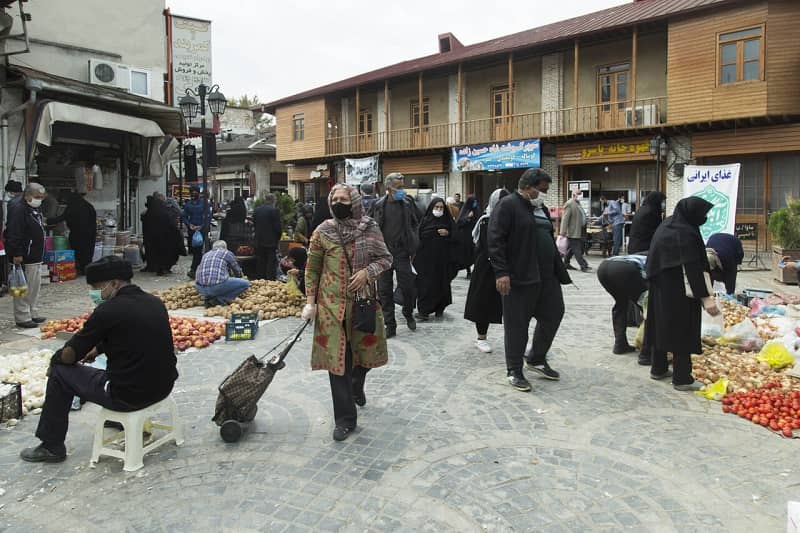 THE CONTENT OF THIS PAGE WILL BE UPDATED WITH THE LATEST NEWS
UPDATE: 5:00 PM CEST
The Oil Sector Awakes: Huge Rallies and Protests on Wednesday
On Wednesday, numerous reports indicate that oil industry employees and workers in Abadan, Gachsaran, Asaluyeh, Lavan Island, Mahshahr, Bushehr, and Ahvaz have taken to the streets to join other sectors in protest against underpayment in times where skyrocketing inflation and a corrupt economy is killing every Iranian family's income.
Also, thousand of former Iran Air aviation employees in Tehran, truck drivers in Isfahan, municipal workers in Neyshabur, residents of Ziar City, as well as farmers in Ahvaz have joined this chorus of social dissatisfaction and anger.
#IranProtests
Tehran—over 1000 retired employees of Iran Air aviation company rallied in front of the Iran Air office protesting officials' failure to pay their arrears and to balance pensions and salaries. pic.twitter.com/FjyY72edfq

— Iran News Update (@IranNewsUpdate1) May 26, 2021
May 26 – Ahvaz, southwest #Iran
Oil and gas workers held a gathering and marched in the city streets protesting their low wages and expressing their economic griefs.#IranProtestspic.twitter.com/Tju87SA7wG

— People's Mojahedin Organization of Iran (PMOI/MEK) (@Mojahedineng) May 26, 2021
---
UPDATE: 8:30 AM CEST
Iran: Coronavirus Death Toll In 543 Cities Exceeds 298,100

The People's Mojahedin Organization of Iran (PMOI/MEK) announced on Tuesday, June 25, 2021, that the Coronavirus death toll in 543 cities is more than 298,100. The number of victims in Tehran has reached 69,636, Isfahan 19,835, Khuzestan 18,584, Khorasan Razavi 18,160, East Azerbaijan 12,218, West Azerbaijan 11,178, Gilan 10,061, Fars 9,852, Qom 9,585, Alborz 8,338, Kermanshah 5,863, Semnan 5,125, Yazd 5,037, Kurdistan 5,117, Hormozgan 3,555, and Zanjan 3,260.
#Iran Coronavirus Update

More than 298,100 people have died of the novel #coronavirus in 543 cities checkered across all of Iran's 31 provinces, according to the Iranian opposition PMOI/MEK.

Full Reporthttps://t.co/Pw3yw3tKL8 pic.twitter.com/KvqdhsHLil

— People's Mojahedin Organization of Iran (PMOI/MEK) (@Mojahedineng) May 25, 2021
---
Ebrahim Raisi, the #1988Massacre henchman, one of the worst criminals against humanity, will be the regime's next president. #Iran

— Maryam Rajavi (@Maryam_Rajavi) May 25, 2021
Today, there is no longer any excuse to appease and engage with this regime. Any interaction & cooperation with the mullahs will be in service of the regime's repression and killing of the Iranian people, its nuclear ambitions, and fueling wars in the region. #NoImpunity4Mullahs

— Maryam Rajavi (@Maryam_Rajavi) May 25, 2021
---
Iran's Regime Prepares To Appoint a Mass Murderer as Its Next President
On Tuesday, the Iranian regime's interior ministry declared the names of officials approved by the Guardian Council to run for the presidency in the upcoming sham election. The qualified candidates include former chief nuclear negotiator Saeed Jalili, current judiciary chief Ebrahim Raisi, former IRGC commander Mohsen Rezaee, former member of parliament Alireza Zakani, MP Hossein Ghazizadeh Hashemi, former Isfahan province governor Mohsen Mehralizadeh, and Central Bank governor Abdolnasser Hemmati.
---
Call To Prevent the Execution of Political Prisoner Mehran Gharebaghi

The Iranian regime's Ministry of Intelligence and Security (MOIS) has recently informed the family of political prisoner Mehran Gharabaghi in Behbahan that he had been sentenced to death. Mehran Gharabaghi, 29, a Bachelor of Science in Agriculture, was arrested on January 18, 2020, along with a friend, Majid Khademi, 29, and transferred to Behbahan Prison after a month-long interrogation.
---
Elimination of Larijani or Shooting Khamenei Himself?!
Finally, after nearly ten days, Iran's Guardian Council, whose members are appointed by the Supreme Leader of the regime, Ali Khamenei, announced the final list of candidates approved by the council for the June 18 Presidential election. Almost no one is on the list except Ebrahim Raisi, Khamenei's preferred candidate for the June 2021 election.
---
Iran Judiciary Sentences Three People to Lashes
The Iranian Judiciary sentenced three people to lashes today for "participation in economic disruption" in Qom, south of Tehran. According to the state-run Mizan News Agency, the three men were identified as Mehdi Darkhani, Mohsen Asadi, and Ali Karimian, all employers of a construction company in Qom. Mehdi Darkhani, the CEO of the Anbouh Sazan Abtin Shokouh Parsian Company was sentenced to 74 lashes, 20 years of prison, compensation, a fine, and confiscation of his "illegitimate" property. He was also banned from membership in the company's board of directors.
---
A New Wave of Coronavirus Outbreak in the Women's Ward of Sepidar Prison of Ahvaz
Reliable reports from Iran say the women's ward of Sepidar Prison in Ahvaz is experiencing a new wave of Coronavirus outbreaks. Ahvaz is the capital of the southwestern oil-rich province of Khuzestan. Instead of attending to the sick and transferring them to civic hospitals, Sepidar Prison authorities have banned inmates from making telephone calls to their families.
---
Iran news in brief, May 26, 2021
Iran news in brief, May 26, 2021
---
Read more: Iran News in Brief – May 25, 2021