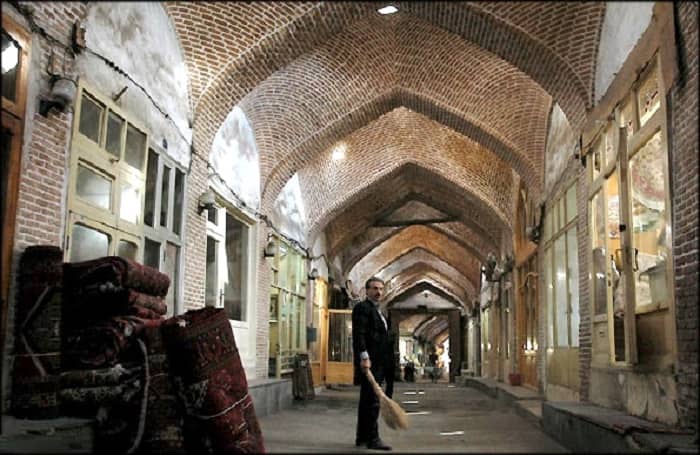 THE CONTENT OF THIS PAGE WILL BE UPDATED WITH THE LATEST NEWS
UPDATE: 6:00 PM CEST
Tehran judiciary gears up to deal with "thugs" who threaten "security"
The Tehran Public and Revolutionary Prosecutor said a "base" has been established to deal with "thugs and hooligans", with the cooperation of the Judiciary and security and law enforcement institutions.
Ali Al-Qasimehr said in comments carried by state-run media during a meeting with the capital's senior military, police and security commanders and relevant judges, that the judiciary would "deal decisively, swiftly and without mercy" with those who "want to make the streets unsafe."
***
Disastrous Prison Conditions in Northeast Iran During the Pandemic
Reports from the Central Prison of Mashhad indicate disastrous prison conditions as prisons across Iran are plagued with the coronavirus.
Rights groups say between five and six inmates in this prison lose their lives every day in this prison. As for reason of these deaths, prison authorities say they die of natural causes to cover up the disastrous prison conditions.
***
Persecution of journalists in Iran aims to stifle calls for freedom
#Iran has executed thousands of men and women since 1979, including a score of journalists who were all convicted by unfair courts," RSF sec-gen C. Deloire https://t.co/MtQVZAqR8F pic.twitter.com/a1V1GFEK8i

— Women's Committee NCRI (@womenncri) November 2, 2020
***
Detained Haft Tappeh Sugar Can Factory workers on hunger strike
Ebrahim Abbasi-Manjezi, Masoud Hayuri, Yousef Bahmani and Hamid Mombeini, detained Haft Tappeh Sugar Can Factory workers, went on hunger strike to protest their continued detention in Dezful (Iran) Prison.
***
Press release: UK Foreign Secretary statement on Nazanin Zaghari-Ratcliffe
Foreign Secretary Dominic Raab said: "It is appalling that Iran has begun a new case against Mrs Zaghari-Ratcliffe, and have threatened her with being returned to prison. The Iranian authorities have put an intolerable burden on Nazanin and her family.
"I am relieved she remains on temporary release, but she needs to be returned home to her family. We continue to make this clear in the strongest terms."
***
U.S. Bureau of Democracy, Human Rights, and Labor defends jailed reporters in Iran
Iranian journalist Khosrow Sadeghi Borojeni was sentenced to 7 years of imprisonment last Feb. due to charges of threatening national security & insulting the republic's founder, highlighting Iran's ruthless agenda to silence critical voices. We call for his immediate release.

— Bureau of Democracy, Human Rights, and Labor (@StateDRL) November 2, 2020
***
UPDATE: 9:00 AM CEST
Iran: Coronavirus Catastrophe – Fatalities Exceed 139,400 in 462 Cities
The People's Mojahedin Organization of Iran (PMOI / MEK) announced this afternoon, November 1, 2020, that Coronavirus has taken the lives of more than 139,400 in 462 cities across Iran. The death toll in various provinces include: 33,781 in Tehran, 10,577 in Khorasan Razavi, 8,303 in Khuzestan, 7,739 in Isfahan, 6,052 in Mazandaran, 5,918 in Lorestan, 5,186 in Gilan, 4,882 in East Azerbaijan, 4,097 in West Azerbaijan, 3,860 in Alborz, 3,761 in Golestan, 3,725 in Hamedan, 3,663 in Fars, 3,656 in Sistan & Baluchistan, 2,491 in Kurdistan, 2,241 in Yazd, 2,227 in Kerman, 2,102 in Markazi (Central), 2,062 in Semnan, 1,617 in Bushehr, 1,548 in Ardabil and 1,407 in Ghazvin.
***
Tehran Fears Its Domestic Resistance Movement
Iranian state-run outlets are reporting a mixture of internal crises, social and economic, along with the stalemate of the regime in the global and international arena. In recent days, outlets of both factions of the government have reflected the blows received from the Iranian Resistance movements known as the People's Mojahedin Organization of Iran (PMOI/MEK) and the National Council of Resistance of Iran (NCRI).
***
AP: Iran begins annual air force drill with drones, fighter jets
Iran's air force began an annual drill Monday, state television reported, with its aging fleet of U.S.- and Russian-made jet fighters taking part alongside locally made drones and other aircraft. The drill will see forces from eight air bases take part over two days in exercises that include missile firing and mid-air refueling. This is the second drill Iran has held since a decade-long U.N. arms embargo on Iran that barred it from purchasing foreign weapons like tanks and fighter jets expired earlier in October.
***
Iran Human Rights Monitor, Monthly Report – October 2020
October saw the State Security Force's violent approach towards Iranian citizens, even torturing them in public. This comes in tandem with the clerical regime's expansion of its repressive plans to contain increasing social discontent, particularly on the eve of the anniversary of the protests in November 2019.
On October 18, SSF forces tied a young man, Mehrdad Sepehri, to a pole in a street in Hojjat Township in Mashhad. They tortured him right there in the street using stun guns and pepper spray, which led to his death.
***
Maryam Rajavi's tweet about the November protests:
The volcanic uprising in November washed away all unfounded claims. It was proven that it is possible to inspire and organize protests. It was proven that despite all the repression and crimes, our people have a spectacular desire and readiness to continue their uprising. #Iran pic.twitter.com/Fs9hz4iSLj

— Maryam Rajavi (@Maryam_Rajavi) November 1, 2020
***
Iran news in brief, November 2, 2020
Iran news in brief, November 2, 2020
*****

*****
WHAT ARE THE IRAN PROTESTS OF 2019?
Monday, November 2, 2020, marks the 346th day since the beginning of the nationwide Iran protests.
The People's Mojahedin Organization of Iran (PMOI/MEK) has identified 755 of the more than 1500 protesters killed by the regime so far.
Mrs. Maryam Rajavi, the President-elect of the National Council of Resistance of Iran (NCRI) has called on the United Nations to urgently send an international fact-finding mission to Iranian prisons to meet with the detainees.
HIGHLIGHTS OF THE UPRISING:
Number of uprising cities: 191
Number of martyrs: At least 1500
Number of injured: More than 4,000
Number of detainees: More than 12,000
Read more: Iran News in Brief – November 1, 2020