THIS PAGE WILL BE UPDATED WITH THE LATEST NEWS
UPDATE: 9:30 PM CET
Kennedy, Moran Demand Biden Enforce Sanctions on Iran's Oil Sales, Permanently Freeze $6 Billion
WASHINGTON – Sen. John Kennedy (R-La.) today joined Sen. Jerry Moran (R-Kan.) in demanding that President Joe Biden enforce sanctions against Iranian oil sales and permanently freeze the transfer of $6 billion in assets to Tehran from the Biden administration's September hostage negotiation.
"For far too long, Iran has evaded consequence for its complacency in funding radical terror. To prevent further atrocities and to fulfill our promise of providing unwavering support to our most important ally in the Middle East, we urge your administration to take the necessary means in severing financial avenues available to Iran, specifically cracking down on oil exports," the senators wrote.
---
Friday Protests in Iran
---
Two Men Found Guilty of Conspiracy to Sell Sanctioned Iranian Petroleum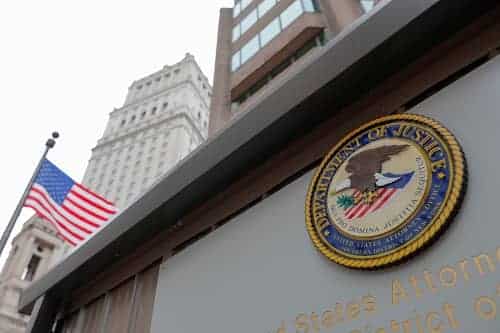 Zhenyu "Bill" Wang, 42, of Dallas, and Daniel Ray Lane, 42, of McKinney, Texas, were convicted at trial on Nov. 15 on charges of attempting to violate the International Emergency Economic Powers Act (IEEPA), conspiracy to violate IEEPA, and conspiracy to commit money laundering in connection with their attempt to transact in sanctioned Iranian petroleum and launder the proceeds.
According to evidence presented at trial, in 2019 and early 2020, the defendants engaged in a conspiracy to purchase petroleum from Iran, in violation of economic sanctions imposed by the United States under IEEPA. They then planned to mask the origins of the petroleum and sell it to a refinery in China. The defendants also attempted to conceal their illegal transactions by obtaining foreign passports, engaging in sham contractual agreements, and conspiring to launder the proceeds of the sale through shell entities and offshore financial accounts. For example, Lane offered to use the mineral rights that his company sold to launder proceeds for the Iranian sellers. In addition, Wang arranged for bribe payments to be paid the Chinese officials and bankers.
---
U.S. Treasury Sanctions Iran-Aligned Militias in Iraq
WASHINGTON — Today, the U.S. Department of the Treasury's Office of Foreign Assets Control (OFAC) is designating six individuals affiliated with the Iran-aligned militia group (IAMG) Kata'ib Hizballah (KH) based in Iraq. Trained, funded, and supported by Iran's Islamic Revolutionary Guard Corps-Quds Force (IRGC-QF), KH is behind a spate of recent attacks against the United States and partners in Iraq and Syria following the horrific attacks by Hamas against Israel. The U.S. Department of State is also designating Kata'ib Sayyid al-Shuhada (KSS) and KSS leader Hashim Finyan Rahim al-Saraji. KSS, another Iraq-based IAMG that receives support from the IRGC, has planned and been involved in attacks against U.S. personnel in Iraq and Syria.
---
UPDATE: 5:30 PM CET
France Says Warned Iran Against Mideast 'Escalation'
By AFP – Agence France Presse – France said on Thursday that it had warned Iran against "any escalation or widening" of the Middle East conflict, notably in Lebanon.
Foreign Minister Catherine Colonna told her Iranian counterpart, Hossein Amir-Abdollahian, "with firmness" that Tehran had a "heavy responsibility" in the matter, according to a foreign ministry statement.
The October 7 attack by Hamas militants on Israel needed to be condemned "by everybody with the greatest firmness", Colonna told Amir-Abdollahian during their meeting in Geneva Thursday.
---
Iran Enriches More Uranium as Gaza War Rages, US Vote Looms
PARIS/WASHINGTON/VIENNA, Nov 17 (Reuters) – The United States and its allies have few routes left to rein in Iran's nuclear work with prospects for talks long buried and tougher actions against Tehran running the risk of stoking tensions in a region already enflamed by the Gaza war.
With a U.S. election next year limiting Washington's room for manoeuvre, four serving and three former diplomats painted a bleak picture of efforts to curb Iran's nuclear programme, which according to U.N. nuclear watchdog reports continues to advance.
The diplomats spoke to Reuters on condition of anonymity.
According to one of the two confidential reports by the International Atomic Energy Agency and seen by Reuters, Iran now has enough uranium enriched up to 60% purity – close to weapons-grade and a level Western powers say has no civilian use – to make three bombs.
---
Cotton Introduces Legislation To Sanction Iranian Missile Development
Washington, D.C. — Senator Tom Cotton (R-Arkansas) yesterday introduced the No ICBMs or Drones for Iran Act, legislation that would strengthen sanctions on Iran's development and transfer of long-range missiles and drones.
Congresswoman Elise Stefanik (New York-21) is introducing companion legislation in the House.
Text of the legislation may be found here.
"The Biden administration seems content not to do anything to stop Iranian proxies from attacking American troops. But what will we do when Iran gets its hands on missiles that can reach America? This legislation will strengthen necessary sanctions on Iran to better protect America and our allies from their current drone attacks and future missile attacks," said Senator Cotton.
---
UPDATE: 8:00 AM CET
Iran: Rebellious Youth Target IRGC and Basij Bases on Anniversary of Nationwide Protests
Key IRGC Basij base attacked in Tehran | Iran protests
As Iran marks the fourth anniversary of the nationwide protests of 2019, rebellious youth are targeting the regime's centers of repression and terrorism across the country.
In Tehran, rebellious youth targeted the Revolutionary Guard (IRGC) Quds Garrison in Greater Tehran and the Quds Basij headquarters of the IRGC Tehran command. The bases were rocked with great explosions on Monday night.
---
Iran's Human Development Crisis Under The Mullahs' Rule
Iran, under the governance of the mullahs, is experiencing a concerning decline across all sectors, despite its significant national capital and mineral wealth. The continuous drop in various domains prompts the question: why does this trend persist?
The Ministry of Labor and Social Welfare's statistical yearbook, under Ebrahim Raisi's government, examined the recent developments in human development in the year 2022. As reported by Jahan-e Sanat, a regime media outlet, "Iran's overall ranking in the Human Development Index (HDI) has seen a marked decline in global standings and numerous sub-indices."
According to Jahan-e Sanat, "Iran's latest score in human development stands at 0.774, ranking 76th globally on a scale calculated from zero to one, where closer to one denotes higher development in human affairs."
---
Iran's 60%-Enriched Uranium Stockpile Enough For 3 Atomic Bombs, IAEA Reports
According to a new report by the International Atomic Energy Agency (IAEA), Iran's stockpile of 60% enriched uranium has increased from 6.7 kilograms to 128.3 kilograms since the agency's last report in September.
This amount is more than three times the approximately 42 kilograms that, according to the agency's definition, theoretically suffices for the construction of a nuclear bomb if further enriched.
Reuters reported that Iran currently has enough uranium with a concentration of 60% to produce three atomic bombs, according to the IAEA's standards, and it has not yet answered the agency's key questions and concerns regarding its nuclear program.
---
Toronto, Canada—November 11, 2023: MEK Supporters Held a Rally in Solidarity With the Iran Revolution
Toronto, Canada - November 11, 2023: MEK supporters rally in solidarity with Iranian Revolution.
Toronto, Canada—November 11, 2023: Freedom-loving Iranians and supporters of the People's Mojahedin Organization of Iran (PMOI/MEK) organized a rally in solidarity with the Iranian Revolution and victims of terror, torture and execution by the mullahs' regime. Iranians in Toronto strongly condemned the terrorist attack on Dr. Alejo Vidal-Quadras in Madrid on November 10.
---
Zurich, Switzerland—November 14, 2023: MEK Supporters Held a Photo Exhibition in Solidarity With the Iran Revolution
Zurich—Nov 14, 2023: MEK Supporters Held a Photo Exhibition in Solidarity With the Iran Revolution.
Zurich, Switzerland—November 14, 2023: Freedom-loving Iranians and supporters of the People's Mojahedin Organization of Iran (PMOI/MEK) held a photo exhibition in solidarity with the Iranian Revolution. This exhibition served as a tribute to the martyrs of the nationwide Iranian uprising. Among those remembered was Kian Pirfalak, a 10-year-old from Izeh who lost his life at the hands of the criminal agents of the Mullahs' regime in November 2022.
---
Also, read Iran News in Brief – November 16, 2023