THE CONTENT OF THIS PAGE WILL BE UPDATED WITH THE LATEST NEWS
UPDATE: 4:00 PM CEST
An employee of Tabriz's District 9, was verbally and physically attacked by the Mayor
Oct. 28 – Tabriz, NW #Iran
An employee of Tabriz's District 9 who approached the Mayor to get his unpaid wages and that of his colleagues was verbally and physically attacked by the Mayor.
Mayor Bahram Nasiani broke his head with a sugar bowl.
He only wanted his unpaid wages. pic.twitter.com/FuWZhd2GFO

— Iran News Wire (@IranNW) October 29, 2020
***
Comparison of food prices rising over past 8 years
***
UPDATE: 9:00 AM CEST
Coronavirus Pandemic in Iran: 135,300 Fatalities in 460 Cities
The People's Mojahedin Organization of Iran (PMOI / MEK) announced on Wednesday, October 28, 2020, that the Coronavirus has taken the lives of more than 135,300 in 460 cities across Iran. The death toll in various provinces include: 32,761 in Tehran, 10,182 in Khorasan Razavi, 7,497 in Isfahan, 5,106 in Gilan, 4,781 in East Azerbaijan, 3,952 in West Azerbaijan, 3,748 in Alborz, 3,721 in Golestan, 3,551 in Fars, 2,888 in Kermanshah 2,284 in North Khorasan, 2,120 in Kerman, 2,096 in Yazd, 1,927 in Markazi, 1,367 in Qazvin, 1,079 in South Khorasan, and 979 in Kohgiluyeh and Boyer Ahmad.
***
Microsoft says Iranian hackers targeted 'high profile' conference attendees
Microsoft says hackers backed by the Iranian government targeted over 100 high-profile potential attendees of two international security and policy conferences.
***
Iran: Murderers of 1,500 Protesters Continue to Benefit from Impunity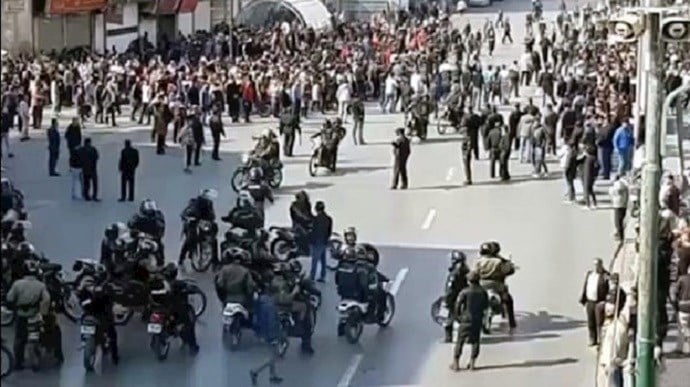 After a little less than a year, the Iranian government has yet to investigate the killing of at least 1,500 protesters during the nationwide November 2019 uprising. This is while State Security Forces (SSF) detained around 12,000 demonstrators and imprisoned them in unknown places. The fate of many detainees remains unclear.
***
Eshagh Jahangiri First Vice-President of the Iranian regime: The solution to lowering prices is to pray
Reporter: Is it correct that prices (of basic goods) are to be lowered?
Eshagh Jahangiri, First Vice-President of #Iran: Pray (that they do come down.)

An example of utter incompetence and lack of accountability. Note that 60M Iranians live in poverty. pic.twitter.com/eHzPozHwWi

— Iran News Wire (@IranNW) October 28, 2020
***
Maryam Rajavi: The regime's leaders must face justice as the greatest perpetrators of terrorism in the world
***
Some 300 female prisoners relocated to the Central Prison of Urmia
Some 300 female prisoners have been relocated to the Central Prison of Urmia from across West Azerbaijan Province.
The relocation has been carried out on the orders of the clerical regime's Judiciary. The detainees include political prisoners as well as ordinary prisoners detained on common crimes. The relocation of some 300 female prisoners took place on October 23, 2020. The clerical regime has not yet explained the reasons for these relocations.
***
Iran news in brief, October 29, 2020
Iran news in brief, October 29, 2020
*****
*****
WHAT ARE THE IRAN PROTESTS OF 2019?
Thursday, October 29, 2020, marks the 342nd day since the beginning of the nationwide Iran protests.
The People's Mojahedin Organization of Iran (PMOI/MEK) has identified 755 of the more than 1500 protesters killed by the regime so far.
Mrs. Maryam Rajavi, the President-elect of the National Council of Resistance of Iran (NCRI) has called on the United Nations to urgently send an international fact-finding mission to Iranian prisons to meet with the detainees.
HIGHLIGHTS OF THE UPRISING:
Number of uprising cities: 191
Number of martyrs: At least 1500
Number of injured: More than 4,000
Number of detainees: More than 12,000
Read more: Iran News in Brief – October 28, 2020