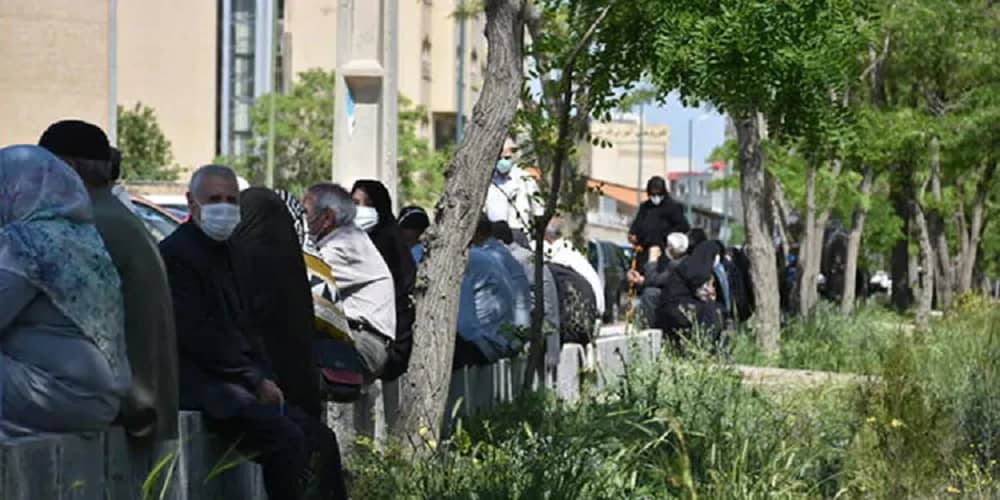 THIS PAGE WILL BE UPDATED WITH THE LATEST NEWS
UPDATE: 11:00 PM CEST
Counterespionage: Turkey Detains Iranian Spies Over Plot To Kidnap Ex-soldier
Daily Sabbah – Turkey has detained eight individuals including two Iranian spies over a plot to kidnap a former Iranian soldier, security sources said Wednesday, in the latest espionage case threatening to roil relations between the two neighboring regional powers.
The two alleged spies were detained as they plotted to kidnap and forcibly repatriate a former Iranian military official from the eastern Turkish province Van, an official also told AFP.
---
UPDATE: 9:00 PM CEST
UN Official Expressed Concerns About Human Rights Violations in Iran's Prisons
At the UNGA Third Committee session, Craig Mokhiber,  director at the New York Office of the United Nations High Commissioner for Human Rights said: "The report titled "Situation of human rights in the Islamic Republic of Iran" stresses the lack of accountability mechanisms and impediments to the rule of law, and notes that the application of the death penalty, including for child offenders, remains high. It also raises concerns about the arbitrary deprivation of life, including through torture and denial of medical care in detention."
---
Execution of Armin Abdelali Put on Hold
According to mojadehin.org, following a wave of protests, including by Amnesty International and the German government, the clerical regime put the execution of Arman Abdelali on halt.
---
Paris Calls Upon Tehran to Comply with UNSC Resolution and Stop Ballistic Missile Activities
Yann Hwang, the French ambassador and permanent representative to the UNGA First Committee told the conference on disarmament in Geneva: "Regarding Iran, we are continuing our efforts, in close coordination with our partners, for Iran to end all of its activities in violation of the JCPOA without delay and return to the Vienna negotiations, which they suspended more than three months ago. Opting to quickly reach an agreement on the return of the United States to the agreement and Iran to respect its commitments under the JCPOA, we also continue to call on Iran to respect United Nations Security Council Resolution 2231 and to cease all its activities related to ballistic missiles capable of carrying nuclear warheads and any activity that may compete."
---
UPDATE: 8:30 PM CEST
Ali Larijani Discharged from Iran-China Deal
Farhikhtegan website, affiliated with Ali Akbar Velayati, senior advisor to Iranian regime's supreme leader wrote today: "Ali Larijani, who was in charge of the 25-year-old agreement with China, has reportedly resigned as the 13th government (Ebrahim Raisi's administration) will take over the management of the agreement, leaving the task to the government's team and the first vice president.
Mohammad Hossein Malaek, the regime's former ambassador to China, implicitly said that Larijani was actually dismissed and wrote: "Putting Larijani in charge of the 25-year pact with China was the wrong decision in the first place."
He added: "This agreement enables us to circumvent US sanctions. If no government official would be in charge, there will be no significant change with China."
---
UPDATE: 7:30 PM CEST
Iran: Suspicious Death in Custody of Torture Witness Amid Impunity Crisis
Iranian authorities must urgently carry out an effective, thorough, independent, impartial, and transparent investigation into the causes and circumstances surrounding the enforced disappearance and suspicious death in custody of a 49-year-old man, Shahin Naseri, who provided witness testimony on the torture of wrestler and protester Navid Afkari prior to his secret execution in September 2020. This latest case of enforced disappearance and death in custody serves as yet another stark reminder of the deadly consequences of the crisis of systemic impunity in Iran for violations of the right to life and other crimes under international law.
---
UPDATE: 5:30 PM CEST
Iranian Exiles File Rights Abuse Claim in UK Against Raisi
AFP – An Iranian opposition group has filed a complaint with Scottish police for human rights abuses and genocide allegedly committed by Iran's President Ebrahim Raisi, its members said in Glasgow on Wednesday.
Hossein Abedini, a member of the National Council of Resistance of Iran (NCRI) coalition of opposition parties, said at a press conference that Raisi had to be held accountable for taking part in the massacre of around 30,000 political prisoners in 1988.
---
Another Prisoner Executed in Qaen County, South Khorasan Province, Iran
The Iranian regime's judiciary executed a prisoner in Qaen Prison. The prisoner was executed on drugs-related charges. His name was Ibrahim Rakhshani, he was the son of Khan Mohammad and a native of Zabul.
---
UPDATE: 12:00 PM CEST
Partial Results Show Pro-Iran Groups Losing Iraq Election
AP — An alliance of Iraqi candidates representing Shiite militias supported by neighboring Iran has emerged as the biggest loser in the country's national elections, according to partial results released Monday.
The results, posted online successively, also showed the bloc of Iraq's populist Shiite cleric Muqtada al-Sadr maintaining the most seats in parliament, leading in several of Iraq's 18 provinces, including the capital Baghdad. Al-Sadr, a maverick leader remembered for leading an insurgency against U.S. forces after the 2003 invasion, appeared to have increased his movement's seats in the 329-member parliament from 54 in 2018 to more than 70.
---
Health Expert Admits to Systemic Failure of Handling the Pandemic
In an article dated Wednesday for the state-run newspaper Hamdeli, Mohammadreza Mahboubfar, a health expert, admitted to the systemic mishandling of the pandemic in Iran and the sharp increase of Covid-19 deaths.
Mahboubfar wrote: "News suggest that the injection of the Barakat Covid-19 vaccine has stopped and the project has been quietly dismantled. Some of the Barakat vaccine side effects and the lack of public trust in the vaccine have led to this decision."
This health expert practically blamed the regime for the Covid-19 crisis while adding: "The Ministry of Health has repeatedly stated that Iran has so far ordered and pre-purchased 17 million doses of vaccine from Kovax but it has claimed that the main problems in providing sufficient vaccines for the Iranian people have been the sanctions, restricted financial resources, limited resources of the country, and the Kovax mechanism prioritizing developed countries for vaccinations. In fact, due to the ban of credible foreign vaccines in the country and the self-imposed sanctions by Iran, Iran practically lost the opportunity to pre-purchase all types of approved and manufactured vaccine brands from Kovax."
---
UPDATE: 8:30 AM CEST
Iran: Coronavirus Death Toll Exceeds 454,700
The People's Mojahedin Organization of Iran (PMOI/MEK) announced this afternoon, Tuesday, October 12, 2021, that the Coronavirus death toll in 547 cities across Iran had surpassed 454,700. In Tehran death toll has passed 106,488, Khorasan Razavi 37,385, Isfahan 30,780, Khuzestan 27,875, Fars 16,435, West Azerbaijan 16,518, Lorestan 15,135, Alborz 13,418, Sistan and Baluchestan 12,850, Qom 12,470, Kerman 12,117, Golestan 10,130, Hamedan 8,503, Central Province 8,273, Kermanshah 8,254, Hormozgan 7,675, Ardabil 5,695, and Bushehr 5,124.
#Iran Coronavirus Update

More than 454,700 people have died of the novel #coronavirus in 547 cities checkered across all of Iran's 31 provinces, according to the Iranian opposition PMOI/MEK.

Full Reporthttps://t.co/S2oNYgT90s pic.twitter.com/fpbPcsisQu

— People's Mojahedin Organization of Iran (PMOI/MEK) (@Mojahedineng) October 12, 2021
---
US State Department Slammed Iranian Regime's Meddling in the Middle East
In his daily press briefing on Tuesday, US State Department Spokesperson, Ned Price said: "The United States rejects the intimidation of the Lebanese judge and considers that Hezbollah's terrorism undermines Lebanon's sovereignty… We believe that Hezbollah is more interested in his own interests and its patron, Iran, than in the best interests of the Lebanese people."
State Department spokesman also said: "The international community has repeatedly said that we support the Lebanese authorities in conducting a transparent investigation into the horrific bombing in Beirut. This explosion deserves justice and the perpetrators must be held accountable. We oppose threats against the judiciary in any country."
The US State Department spokesman stressed: "As far as the Iranian's regional activities are concerned, we have made it clear that Iran has been an undesirable factor in various destabilizing areas in the region, including the support of proxy groups and other regional threats."
Ned Price also added: "We have a lot of differences with the Russians, but there are areas where we have common statements, including on the JCPOA… We have a common interest in the fact that Iran should never be able to acquire a nuclear weapon."
---
Iranian Ships Are Turned Away at Chinese Ports Because of Sanctions
Mohammadreza Modarres Khiabani, CEO of the main Iranian state-affiliated shipping company told the state-run ILNA news agency on Tuesday that Iranian ships are not allowed to use major Chinese ports due to the US sanctions.
Khiabani said: "The Khiabani Shipping Company, which owns 144 ships, has been subject to the most severe sanctions since 2008, and these sanctions have been intensified since 2018 after the US government withdrawal from the JCPOA, and now we're facing banking restrictions abroad."
---
"Defending the MEK Meant Certain Death," Recalls a Survivor of Iran's 1988 Massacre
During the summer of 1988, the mullahs' regime in Iran carried out a horrific campaign of mass killings in prisons checkered throughout the country. Political prisoners from all walks of life were sent to the gallows in the hundreds, leading to the executions of more than 30,000 political prisoners, mostly members and supporters of the Iranian opposition People's Mojahedin Organization of Iran (PMOI/MEK).
---
40 Days After His Arrest Baha'i Citizen Still in Unknown Condition
The wife of a detained Baha'i citizen says that more than 40 days after her husband's arrest, his family is still unaware of his condition and that they have not been able to appoint a lawyer for him. Samira Ebrahimi, the wife of Arsalan Yazdani, said on her Instagram account on Sunday that in a letter to Gholam-Hossein Mohseni-Ejei, the head of Iran's judiciary, she described her husband's condition. She said she had appealed to the judiciary several times before, but her efforts had not been successful.
---
Read more: Iran News in Brief – October 12, 2021