THE CONTENT OF THIS PAGE WILL BE UPDATED WITH THE LATEST NEWS
UPDATE: 5:30 PM CEST
Prisoner Executed in Gohardasht Prison, Karaj
According to the HRANA website, on Wednesday, September 15, a prisoner was executed by the regime's judiciary in Gohardasht prison in Karaj. The name of this prisoner was Babak and he had been in prison for 8 years.
---
IAEA Calls Iran's Treatment of Watchdog's Inspectors 'Unacceptable'
Reuters – The U.N. nuclear watchdog on Tuesday described as "unacceptable" incidents in Iran involving its inspectors, in which diplomats say security staff subjected female inspectors to inappropriate searches that the United States is calling harassment.
---
UPDATE: 2:00 PM CEST
Florida Residents Charged with Conspiring to Violate Iran Sanctions, Other Crimes
Three Florida residents have been charged in federal district court in Miami with crimes related to their alleged violations of U.S. sanctions on Iran, and money laundering. Defendants Mohammad Faghihi, 52, his wife Farzeneh Modarresi, 53, and his sister Faezeh Faghihi, 50, operated Florida company, Express Gene.
---
Iranian National Sentenced for Illegally Exporting Military Sensitive Items
An Iranian national was sentenced today to 63 months in prison followed by three years of supervised release for violating the International Emergency Economic Powers Act (IEEPA). Mehrdad Ansari, 40, a resident of the United Arab Emirates and Germany, was convicted by a federal jury in May 2021 for his role in a scheme to obtain military sensitive parts for Iran in violation of the Iranian Trade Embargo. In coordination with his co-conspirators, Ansari obtained and attempted to obtain parts that had dual-use military and civilian capability and could be used in such systems as nuclear weapons, missile guidance and development, secure tactical radio communications, offensive electronic warfare, military electronic countermeasures (radio jamming) and radar warning and surveillance systems. The equipment Ansari helped try to obtain could be used to test these other weapon systems.
---
Iran: A Decade of Deaths in Custody Unpunished Amid Systemic Impunity for Torture
Amnesty International- Iranian authorities have failed to provide accountability for at least 72 deaths in custody since January 2010, despite credible reports that they resulted from torture or other ill-treatment or the lethal use of firearms and tear gas by officials, said Amnesty International following yesterday's reports of yet another suspicious death in custody.
---
UPDATE: 9:00 AM CEST
At IAEA Session, US Warns Against Iranian Regime's Nuclear Advancements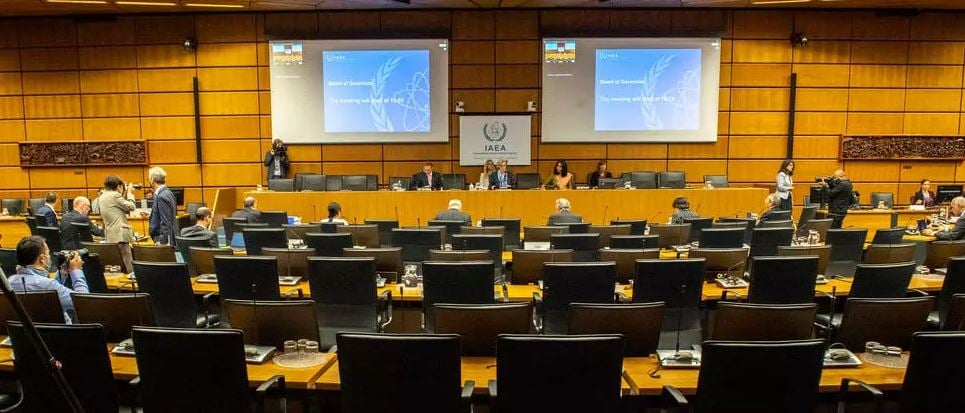 On Tuesday, September 14, US Chargé d'Affaires in Vienna, Louis Bono said: "The opportunity to return to full compliance with the Joint Comprehensive Plan of Action (JCPOA) will not last forever."
Speaking on behalf of the US diplomatic mission at the IAEA Board of Governors meeting, he added: "According to the Director-General, Iran is continuing to significantly expand its nuclear program beyond the restriction allowed within the JCPOA framework. The continued escalation of nuclear tensions beyond the constraints of the agreement will keep us from moving closer to a nuclear deal."
---
Germany Arrests Man for Allegedly Assisting Iran's Nuclear Program
Deutsche Welle- A German-Iranian man was arrested on Tuesday on suspicion of shipping equipment to be used in Iran's nuclear and missile programs, Germany's federal prosecutor said. The prosecutor confirmed police had previously searched offices and apartments linked to the suspect in 11 separate locations, across three German states — Hamburg, Schleswig-Holstein, and North Rhine-Westphalia.
---
UPDATE: 8:30 AM CEST
Iran: Coronavirus Fatalities Exceed 423,300
The People's Mojahedin Organization of Iran (PMOI/MEK) announced on Tuesday, September 14, 2021, that the Coronavirus fatalities in 547 cities had surpassed 423,300. The number of victims in Tehran has reached 99,466, Khorasan Razavi 33,825, Isfahan 27,950, Khuzestan 25,951, Mazandaran 16,130, Fars 15,199, East Azerbaijan 15,093, West Azerbaijan 14,913, Gilan 14,730, Lorestan 14,390, Alborz 12,388, Qom 11,670, Kerman 11,102, Central Province 7,798, Kermanshah 7,384, Hormozgan 7,255, Yazd 7,118, Ardabil 5,355, Bushehr 4,804, Qazvin 4,659, Zanjan 4,150, Ilam 4,088, and Chaharmahal and Bakhtiari 3,230.
#Iran Coronavirus Update

More than 423,300 people have died of the novel #coronavirus in 547 cities checkered across all of Iran's 31 provinces, according to the Iranian opposition PMOI/MEK.

Full Reporthttps://t.co/j30gNNxikU pic.twitter.com/Fp3I5nKE0Q

— People's Mojahedin Organization of Iran (PMOI/MEK) (@Mojahedineng) September 14, 2021
---
"Death Hall" — Horrifying Eyewitness Account of Iran's 1988 Massacre

33 years ago, in the summer of 1988 the regime ruling Iran launched a massive killing spree in prisons across the country. Political prisoners from a variety of backgrounds were the target of a horrific campaign resulting in the executions of more than 30,000 political prisoners, mostly members and supporters of the Iranian opposition People's Mojahedin Organization of Iran (PMOI/MEK).
---
Iran: Inflation, Skyrocketing Prices Destroying People's Lives
The Iranian people believe that inflation is no longer due to economic interactions. In fact, skyrocketing prices are the flip side of the mullahs' war against the Iranian people, which is pushing the nation to the brink of extinction in order to preserve the regime. The shortage of basic goods, along with their high prices, has become the new norm across the country. "Lack of basic goods in supply will most likely lead to inflation in the near future. Therefore, consumers are declining their purchases," according to a September 9 piece wired by the semiofficial ISNA news agency.
---
Iranian Mothers Banned From Receiving Children's Report Cards in New Misogynist Edict
Iranian mothers have been banned from receiving their children's report cards, a state-run daily wrote yesterday. The new edict, which Sharq state-run daily called "a tragedy", only allows fathers to receive their children's report cards or student files. The edict, announced in May, bans schools from handing over student files to Iranian mothers. 40-year Leila, mother to a university student and a 12-year-old boy told Sharq that she was "heartbroken" when she was informed of the new edict in a text message.
---
Coordinated Teachers' Protests in Tehran, Fars, Khuzestan, and Lorestan With Women's Prominent Participation
Coordinated teachers' protests in Tehran, Fars, Khuzestan, and Lorestan with women's prominent participation, on Tuesday, September 14, 2021. In Tehran, teachers held a protest across from the parliament against the regime's failure to address their demands. Women teachers made up most of the protesters. They chanted, "The teacher is awake and hates hollow promises."
---
Baluch Fuel Carrier Killed by Security Forces in SE Iran
A Baluch fuel carrier was killed by security forces on September 13 in Zahedan, southeastern Iran. According to the Baloch Campaign website, the Baluch man was identified as Dadaollah Kiazehi. Dadaollah was passing through Gavdaran Town when security forces opened fire on him. His car was overturned, and he passed away. Iranian security forces and the IRGC shoot and kill Baluch fuel traders with impunity.
---
Iranian Defense Attorney Prosecuted for Defending Workers' Rights
Farzaneh Zilabi, a lawyer representing workers in their dispute with a sugar company in southwest Iran, has been sentenced to prison and exile. The Revolutionary Court of Ahvaz sentenced Farzaneh Zilabi to one year in prison and two years ban on traveling abroad. Zilabi's lawyer, Nasser Zarafshan, said she has been convicted of "spreading propaganda against the regime". He stated that the decision was a "punishment for defending the workers".
---
Read more: Iran News in Brief – September 14, 2021