A glance at Iran's state-run media shows the depth of people's economic grievances, the regime's mismanagement, and a looming uprising.
"Citizens are bear the pain and suffering and wait for the boiling point and the change to come," wrote the state-run Jahan-e Sanat daily on Tuesday, in an article titled "This situation can no longer continue."
"The government has found ways and has reached into the pockets of the citizens from every nook and cranny. By selling the historical assets of this border and region, it has been able to provide the incomes needed to pay the salaries and wages of its employees," Jahan-e Sanat wrote, referring to the regime's officials and mercenaries as government employees.
Jahan-e Sanat then went on asking that "But what did Iranian citizens do with low incomes, and was they able to increase their incomes as much as the inflation rate?" and answers:
"The rapid growth of yogurt, cheese, milk, rice, lentils, chickpeas, beans, fruits, chicken, red meat, and other food prices has put tremendous pressure on people. According to the Higher Institute for Social Security Research on Per capita Food Consumption, 72% of unemployed families cannot buy red meat, 76% are unable to buy chicken, and 71% unable to buy rice. 61% of unemployed families also experienced a reduction in dairy consumption."
Jahan-e Sanat then warns the regime's officials: "It is not possible to continue this situation, and something must be done before the situation reaches a boiling point."
The state-run Jomhuri-e Eslami daily, on Tuesday, wrote: "Living conditions have become such that many people do not have access to seasonal fruits. Purchasing protein and dairy products have either been eliminated or minimized."
"On the other hand, the latest statistics published by the Ministry of Industry, Mines and Trade show that the prices of all goods including rice, meat, and sugar, whose price status was published in September 2020 have increased by 4 to 112 percent compared to last year," the article added.
"The current growth of prices, coupled with rising wage rates at the beginning of 2020, given the inflation rate of 2019, did not affect the growth of prices in 2020. So many people are desperate. People are angry due to this expensiveness," Jomhuri-e Eslami warned the regime's officials.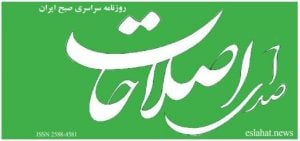 "The alarm of social harm has also been sounded in the country. Social harms, such as suicide, divorce, addiction, depression, violence, etc., are related to poverty and unemployment. Inflation has risen again than in previous months. The fact is that the Iranian people no longer have any hope of improving economic conditions," wrote Seday-e Eslahat daily on Tuesday.
"Iran's economy is currently a recessionary economy with rising inflation, and despite the high unemployment rate, consumers spend less money, and on the other hand, with rising inflation, the money available to consumers is becoming less and less valuable. The inflation in a stagnant economy will play the role of a cold-blooded killer. And this is obvious in the Iranian economy these days," Seday-e Eslahat added.
"The people of Iran are no longer able to withstand the heavy economic pressure," wrote Seday-e Eslahat. "If all the powers and the government do not offer a solution to reduce this pressure and do not control inflation, they should expect [anything] from the people," the article concluded.

"In an inflationary environment where producers face economic hardships, wage conflict of interest leads to a confrontation between workers and employers and, while discrediting wage contracts, leads to dissatisfaction. Third-party insurance contracts, car body insurance, marriage contracts, etc., are other examples that can lose their validity due to the conflict of interests caused by high inflation and cause social dissatisfaction," wrote Donyay-e Eghtesad daily on Monday.
"Mismanagement in economic warfare can turn a simple issue into a major sedition for the country," said Yahya Alle-Eshaq, chairman of the Iran-Iraq Joint Chamber of Commerce, on Tuesday.
That "great sedition," is no other than people's uprising against a corrupted system that has destroyed Iran's economy and resources.