UPDATE: 03:00 PM CEST
Iran Regime's Top Lawmaker Calls Regime's Double Standards "Root of Misery" in Iran
Ahead of the Iranian regime's sham presidential elections, factional feuding has increased. The regime's wrong policies, corruption, and oppression have turned the society into a powder keg. Thus, rival factions try to blame one another.
In this regard, Mojtaba Zolnouri, Chairman of the Security Commission in the regime's parliament, lashed the rival faction on Thursday.
"The officials' double standards [in treating people] and their lack of motivation about the [regime's] ideals have caused misery in the country," Zoulnouri said on Thursday, according to the state-run Tasnim Newsagency, an outlet linked to the regime's Revolutionary Guards (IRGC) Quds Force.
---
UPDATE: 09:30 AM CEST
Protests Continue Across Iran Due To Harsh Economic Conditions and Mullahs' Deal With China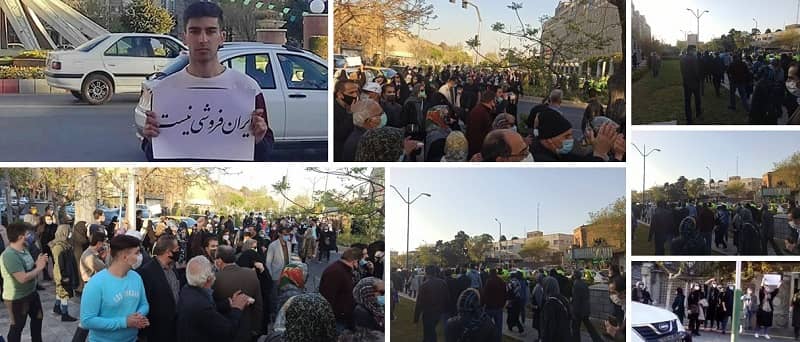 According to reports tallied by the Iranian opposition People's Mojahedin Organization of Iran (PMOI/MEK), there have been several protests across Iran in recent days. These protests held amid the Covid-19 outbreak and, despite the regime's oppression, show society's explosiveness.
---
Iran: Coronavirus Fatalities in 529 Cities Surpass 241,400
The People's Mojahedin Organization of Iran (PMOI/MEK) announced on Thursday, April 1, 2021, that the Coronavirus fatalities in 529 cities across Iran had exceeded 241,400. The number of victims in Tehran has reached 55,781, Isfahan 15,710, Khuzestan 14,174, Mazandaran 10,290, Lorestan 10,193, East Azerbaijan 9,598, West Azerbaijan 9,073, Gilan 8,446, Fars 7,087, Kerman 5,334, Central Province 5,008, Kermanshah 4,829, Yazd 4,357, Kurdistan 4,177, and Kohgiluyeh and Boyer-Ahmad 1,849.
#Iran Coronavirus Update

More than 241,400 people have died of the novel #coronavirus in 529 cities checkered across all of Iran's 31 provinces, according to the Iranian opposition PMOI/MEK.

Full Reporthttps://t.co/5Oah0t5Cud pic.twitter.com/fr5jTmcTqK

— People's Mojahedin Organization of Iran (PMOI/MEK) (@Mojahedineng) April 1, 2021
---
How the Iranian regime is failing the economy
Iranian Supreme Leader Ali Khamenei declared in his speech to mark the New Persian Year that domestic production had been ramped up over the past year, but has this helped the Iranian people?
Abbas Davari, Chair of the National Council of Resistance of Iran's Labor Commission, said no. His reasoning is that the goods that saw a boom in production, i.e., car tires, aluminum, petrochemicals, steel and pharmaceuticals, are those that are controlled by the massive financial empire of Khamenei and his Revolutionary Guards (IRGC).
---
List of women killed during Iran protests in November 2019
On December 15, 2019, the Iranian Resistance announced that the number of those killed by security forces during Iran protests exceeded 1,500. At least 4,000 were wounded and at least 12,000 detained.
Then on December 23, 2019, citing sources within the clerical regime, Reuters confirmed that 1,500 people had been killed in Iran during less than two weeks of unrest that started on November 15. Reuters was told that about 400 women and 17 teenagers were among those killed. The Iranian officials who provided the figures to Reuters said they were based on information gathered from security forces, morgues, hospitals, and coroner's offices.
---
Read more: Iran News in Brief – April 1, 2021