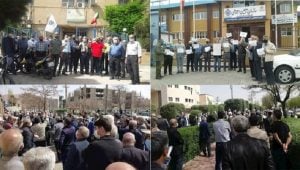 THE CONTENT OF THIS PAGE WILL BE UPDATED WITH THE LATEST NEWS
UPDATE: 09:00 PM CEST
MEK Resistance Units commemorate victims of the 2011 Camp Ashraf attack
The Iranian Resistance Units, the internal network of the People's Mojahedin Organization of Iran (PMOI/MEK), honored MEK members who were killed on April 8, 2011, during an attack against Camp Ashraf by Iranian regime proxies in Iraq.
---
Iran: The pandemic no longer poses a barrier to protests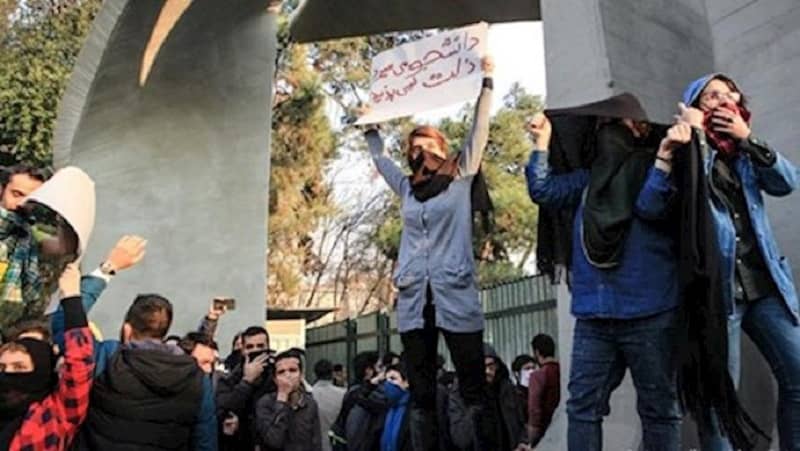 The Iranian regime's officials and media are acknowledging that the Covid-19 pandemic has been let loose across Iran. "Tehran has passed the red alert," said Minoo Mohraz, a member of the regime's Covid-19 Task Force, on April 7. "The fourth peak of Covid-19 is accelerating," wrote the daily Mostaghel.
---
Iran: Prices of basic goods rise yet again
Due to government corruption and the regime's policies, prices of people's basic goods are increasing yet again all across Iran. Each kilo of lamb has reached 1,800,000 rials (about $7.20); 30 eggs is now 500,000 rials (about $2) and the cheapest fish has also reached 500,000 rials per kilo.
---
UPDATE: 01:00 PM CEST
Are Iran's gold mines under China's control?
Two weeks after the 25-year China-Iran agreement was signed, Iranian gold mine owners in the private sector are skeptical about whether the agreement gives full control of the mines to China. According to a report published on April 5 by the state-run Tejarat News website, the Chinese have been working in Iran's gold mines for some time, even before the agreement was signed. Most of the gold mines with larger reserves are controlled by the state and private mine owners still do not know what will become of their mines.
---
35 inmates in critical conditions in Karaj Central Prison from COVID-19 contamination
The coronavirus has spread in Karaj Central Prison and a large number of prisoners have been infected, according to informed sources. Covid-19 cases have been reported in the hall 1 of the prison, which is quarantine and a place for newly arrived prisoners. At least 35 prisoners with acute Covid-19 have been taken to hospital over the past week.
---
Iran Is 150th Out of 156 Countries For Gender Equality
Iran is ranked 150th out of 156 countries in terms of gender equality, according to the World Economic Forum's 2021 Global Gender Gap Report, which is a drop of two places from 2020 and eight since 2019.
To make matters worse, the WEF bases this report on the official data from countries, so the mullahs' lack of transparency might be hiding a much more terrible situation for women in terms of economic ability, political power, and social freedoms.
---
Fake News On MEK Again
As discussions are held this week over the future of the Iranian nuclear deal, specifically getting the regime to comply with the deal as they agreed to it in 2015, the Iranian delegation is attempting to extract concessions from the European signatories.
But why would Europe do that? After all, the regime is barely holding onto power as it is, following five major protests in the past four years and the bottled-up anger of millions of Iranians over the course of the pandemic. The Iranian opposition is anti-nuclear weapons, so would have no problem complying with the deal.
---
'We Followed Orders' Iran's Top Security Official Points to Bloody November
In the weeks leading up to the Presidential election in Iran, political rivalries have severely intensified. To gain political privileges and public acceptance, officials speak about untold stories like the bloody crackdown on defenseless protesters in November 2019.
---
UPDATE: 08:00 AM CEST
Iran: COVID-19 Death Toll in 535 Cities Surpasses 246,400
The People's Mojahedin Organization of Iran (PMOI/MEK) announced on Thursday, April 8, 2021, that the Coronavirus death toll in 535 cities had exceeded 246,400. The number of victims in Tehran has reached 56,561, Isfahan 16,085, Khorasan Razavi 15,885, Khuzestan 14,704, Mazandaran 10,510, Lorestan 10,388, East Azerbaijan 9,923, West Azerbaijan 9,253, Qom 8,780, Gilan 8,616, Fars 7,247, Golestan 6,345, Alborz 6,133, Hamedan 5,613, Kerman 5,449, Kermanshah 4,914, Yazd 4,427, Semnan 4,350, Qazvin 2,799, and Hormozgan 2,775.
---
Online conference on Iran Policy
On Thursday, an online conference was held in Germany. The event featured remarks from a number of Iranian-German activists and both current and former members of the German Bundestag, most of whom offered recommendations for policy changes regarding Iran, both in Berlin and throughout the Western world. Mrs. Maryam Rajavi, the President-elect of NCRI send a video message to the conference.
Online conference on #Iran:
Reshaping Iran Policy:
Human Rights as the Main Criterion
Stop terror against the opposition
Support popular uprisings
Thursday, April 8, 2021, at 6:00 PM CEST#MyVoteRegimeChange #BoycottIranShamElections https://t.co/gvmcEETF09

— NCRI-FAC (@iran_policy) April 8, 2021
Over the past year, young people and Resistance Units kept the flames of resistance alight all across the country despite the pandemic, and despite the fact that the regime adopted the unpopular policy of using the virus as a shield to counter the people's protests. #IranProtests pic.twitter.com/MJZi5pinyL

— Maryam Rajavi (@Maryam_Rajavi) April 8, 2021
---
Amnesty International's Annual Report: Iran
The authorities heavily suppressed the rights to freedom of expression, association and assembly. Security forces used unlawful force to crush protests. The authorities continued to arbitrarily detain hundreds of protesters, dissidents, and human rights defenders and sentenced many to imprisonment and flogging. Women, as well as ethnic and religious minorities, faced entrenched discrimination as well as violence. Enforced disappearances, torture, and other ill-treatment were committed with impunity on a widespread and systematic basis. Judicial corporal punishments amounting to torture, including floggings and amputations, were imposed. Fair trial rights were systematically violated. The death penalty was used as a weapon of political repression. Executions were carried out, one in public and some others in secret. Those executed included people aged under 18 at the time of the crime. The authorities continued to commit crimes against humanity by systematically concealing the fate and whereabouts of several thousand political dissidents forcibly disappeared and extrajudicially executed in secret in 1988. Mass graves believed to contain their remains were subject to ongoing destruction.
---
Nationwide protests continued on Thursday, April 7th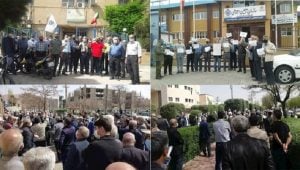 On Wednesday, Retirees and pensioners of the Social Security Organization in Iran took to the streets again and held protest rallies in several cities. The demonstrations took place in front of the offices of the Social Security Organization. While reiterating their economic demands, the pensioners also stressed that they will be boycotting the regime's presidential elections because the past decades have proven that no matter who becomes the regime's president, the situation for the Iranian people will only become worse.
Protests took place in more than a dozen cities, including Tehran, Karaj, Qazvin, Khorram Abad, Ardebil, Ahvaz, Sari, Andimeshk, Rasht, Tabriz, Ilam, Isfahan, Arak, Shahrud, Dezful, Shushtar, Shush, Kermanshah, Yazd, Neyshabur, and Kerman.
Read more
#IranProtests
Fars—retirees of Remote Telecommunication Company in Shiraz rallied in front of the local office of the state-run Broadcasting Organization. They protested officials for making and broadcasting a fake report about the organization. pic.twitter.com/C7hFGUeU2b

— Iran News Update (@IranNewsUpdate1) April 8, 2021
#IranProtests
On April 6, college-graduated teachers staged rallies in seven cities, including Tehran, Rasht, Karaj, Bushehr, Isfahan, Yazd, and Shiraz. They protested the Supreme Court for removing parts of their regular wages. pic.twitter.com/GAKdPzsSOO

— Iran News Update (@IranNewsUpdate1) April 8, 2021
#IranProtests
Khuzestan—staff of Khorramshahr's Water and Sewage Office held a rally in front of this office protesting officials' failure to pay their arrears and overdue salaries. pic.twitter.com/rKPvv3JISM

— Iran News Update (@IranNewsUpdate1) April 8, 2021
#IranProtests
Tehran—staff and workers of the Electricity Distributing Company staged a gathering in front of the Parliament. They protested officials' failure to meet their demands. pic.twitter.com/Z3DdwNndWm

— Iran News Update (@IranNewsUpdate1) April 8, 2021
#IranProtests
Khuzestan—a group of Ahvaz's Water and Sewage operators rallied in front of the Provincial Governorate They were representing around 1,000 operators, demanding officials pay their overdue salaries, insurance rights, and Nowruz Bonuses.
<file photo> pic.twitter.com/jA5i9hIvO8

— Iran News Update (@IranNewsUpdate1) April 8, 2021
---
Iran news in brief, April 9, 2021
Read more: Iran News in Brief – April 8, 2021