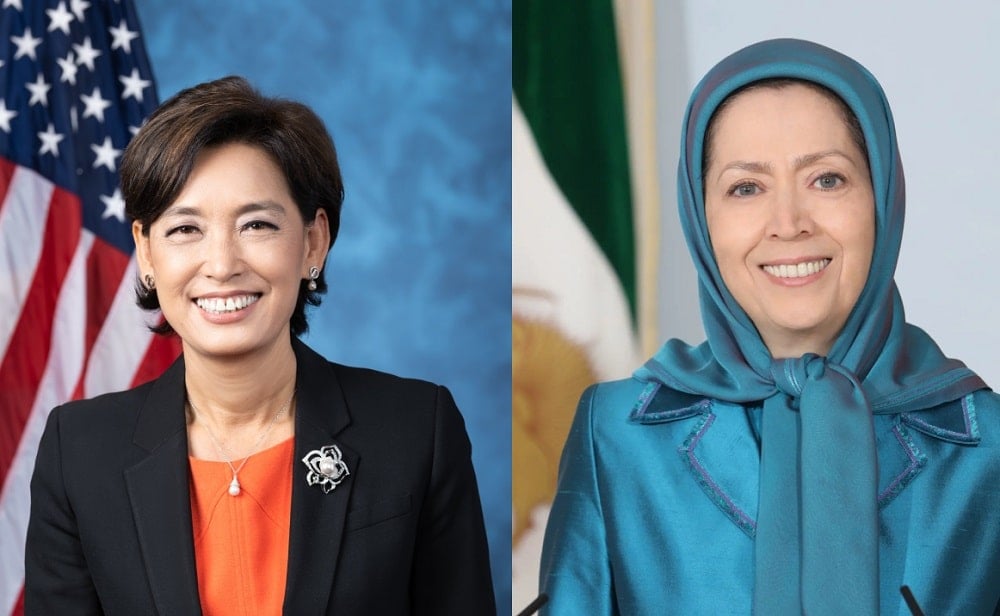 Via video conference, United States House Representative Young Kim met with Mrs. Maryam Rajavi, the President-elect of the National Council of Resistance of Iran, and discussed the new wave of Iran's uprisings, the new House initiative to support the protests, and the latest developments inside the country.
The Republican Representative of the House, Mrs. Young Kim, and Democratic Representative Mrs. Abigail Spanberger, both members of the Foreign Affairs Committee, have presented Resolution No. 1397 in support of the uprising of the Iranian people, which emphasized the following terms:
House Res. 1397 recognizes the right of the Iranian people to determine their destiny and establish a democratic and non-nuclear republic with the separation of religion and government.

By supporting the uprising of the Iranian people, the resolution asks the US Secretary of State to clearly support the Iranian people and their desire for a free, just, and democratic Iran.

The resolution asks the US Secretary of State to condemn the Iranian regime on international organizations and to use diplomatic resources to ask US allies to sanction the IRGC and the Ministry of Intelligence for gross human rights violations.

The resolution asks the US Treasury Secretary to sanction those responsible for repression in Iran, including those involved in the murder of Mahsa Amini.

The resolution condemns the arrest, torture, and murder of Mehsa Amini and the attack on the demonstrations of the Iranian people who demand their basic rights and condemns the Iranian regime's laws that discriminate against women.
In her conversation with Mrs. Young Kim, Mrs. Rajavi explained the latest developments in the nationwide uprising of the Iranian people. She said despite the brutal crackdown, the regime has not been able to stop the protests, and the youth are challenging the regime with courage and dedication.
Mrs. Young Kim said many of my colleagues in America and I are with you. While you are fighting for freedom of expression and freedom of assembly throughout Iran, you should know that we are on your side. You are the leader of a resistance movement that is fighting on the ground against a religious dictatorship.
Thank you @RepSpanberger for joining me to show bipartisan support for the Iranian people peacefully protesting & condemn the Iran regime's violent crackdown of protestors & continued abuses against its people. #IranProtests #MahsaAmini https://t.co/UFQCX4bFWS

— Young Kim (@RepYoungKim) September 29, 2022
In the weeks since the brutal murder of Mahsa Amini at the hands of the Iranian regime, we have seen government thugs oppressing women and violently attempting to stifle peaceful protests.

That is why I'm proud to help introduce @RepYoungKim's resolution condemning this regime.

— Rep. Abigail Spanberger (@RepSpanberger) September 28, 2022
BILLS-117hres1397ih