THE CONTENT OF THIS PAGE WILL BE UPDATED WITH THE LATEST NEWS
UPDATE: 5:30 PM CEST
Prisoner in NW #Iran sentenced to amputation of four fingers for theft
Prisoner in NW #Iran sentenced to amputation of four fingers for theft –
Before this, 3 other prisoners in Urmia were sentenced to finger amputations.
Iran continues to hand down brutal punishments to petty thieves while the real thieves rule the country.https://t.co/s8OdqSXnhd

— Iran News Wire (@IranNW) October 4, 2020
***
Iran: Ongoing Crimes Against Humanity
Iran: Ongoing Crimes Against Humanity #EU Political and Moral Obligations
Wednesday, October 7, 2020
14:00 CEST #Iran #NoImpunity4Mullahshttps://t.co/YVdtbq95zz

— NCRI-FAC (@iran_policy) October 4, 2020
***
UPDATE: 9:30 AM CEST
Iran: Coronavirus Death Toll in 450 Cities Exceeds 115,100
The People's Mojahedin Organization of Iran (PMOI/MEK) announced on Saturday, October 3, 2020, that the number of Coronavirus death toll in 450 cities exceeded 115,100. The number of victims in Tehran is 27,201, Khorasan Razavi 8,584, Khuzestan 7,473, Isfahan 5,774, Lorestan 5,097, East Azerbaijan 3,943, Sistan and Baluchestan 3,386, West Azerbaijan 3,002, Fars 3,101, Hamedan 3,077, North Khorasan 2,034, Ardabil 1,356, Zanjan 1,083, Qazvin 1,069, Ilam 960, Chaharmahal and Bakhtiari 873, and South Khorasan 837.
***
Iranian Fuel Shipments to Venezuela Re-Raise Questions about Enforcement and Conflict
On Monday, it was reported that the first of three ships in an Iranian flotilla had entered Venezuelan waters in accordance with a scheme to even sanctions the U.S. has imposed on both countries. On the same day, the U.S. Treasury Department announced the further expansion of those sanctions, with targets including Venezuela's President Nicolas Maduro and Iran's Ministry of Defense. Meanwhile, Secretary of State Mike Pompeo continued to defend that Trump administration's strategy of "maximum pressure," arguing that Iran has been effectively isolated despite lingering opposition to that strategy from historical USU.S. partners.
***
Maryam Rajavi: The rapid rise in the number of Coronavirus victims in Iran is the strategy of mass casualties to forestall the danger of an uprising and their overthrow
The rapid rise in the number of #Coronavirus victims in #Iran is the strategy of mass casualties to forestall the danger of an uprising and their overthrow. #COVID19 pic.twitter.com/QOXXnArDNu

— Maryam Rajavi (@Maryam_Rajavi) October 3, 2020
***
In Iran, women's "glass ceiling" made of cement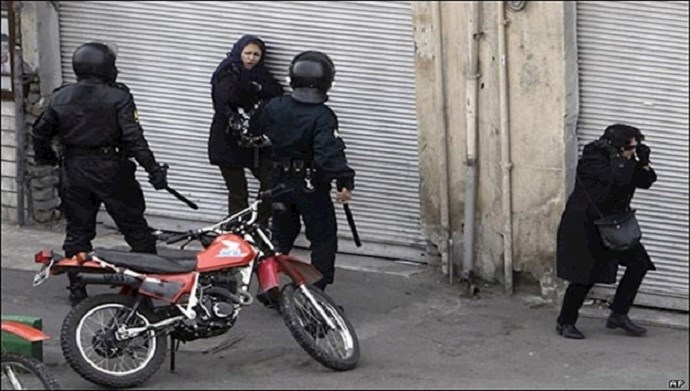 Since Iran's 1979 revolution, which saw the mullahs rise to power, the ruling regime has institutionalized the oppression of women in the constitution and legal fields such as inheritance, testimony, judging, traveling abroad, and so on. This has resulted in the systemic marginalization of half of Iran's population and the emergence of many social and economic problems across the country.
***
Political prisoner Massoumeh Senobari contracts the Coronavirus
#Iran
Massoumeh Senobari, political prisoner viciously tortured by the regime after being arrested, contracts the Coronavirus in mullah regime's prison https://t.co/IcsmTuwvB5

— Women's Committee NCRI (@womenncri) October 4, 2020
***
Iran: Defiant Youth Target Lorestan Prisons General Directorate, a Center of Repression, Torture, and Murder
In the early hours of Saturday, October 3, 2020, in protest against the criminal execution of detained protesters Navid Afkari and Mostafa Salehi, as well as the arrests and death sentences for other protesters, the defiant youth targeted the General Directorate of Prisons in Lorestan Province and set fire to its entrance.
***
MEK Resistance Units and Defiant Youth: Driving Force of Iran Protests
It's hard to find someone who doesn't feel that Iran's social and political situation is more fragile than any other time. An immense political explosion is anticipated, that would result in the downfall of the mullahs' regime after 42 years. The main driving force of this change are Iran's youths.
***
Anniversary of Iraq's Uprising: A Major Blow To Iran's Regime Warmongering Policies
The Iraqi people marked the first anniversary of their "October Revolution" and beginning of their ongoing nationwide uprising against corruption and the Iranian regime's deadly meddling in their country on Thursday.
*****
*****
WHAT ARE THE IRAN PROTESTS OF 2019?
Sunday, October 4, 2020, marks the 323rd day since the beginning of the nationwide Iran protests.
The People's Mojahedin Organization of Iran (PMOI/MEK) has identified 755 of the more than 1500 protesters killed by the regime so far.
Mrs. Maryam Rajavi, the President-elect of the National Council of Resistance of Iran (NCRI) has called on the United Nations to urgently send an international fact-finding mission to Iranian prisons to meet with the detainees.
HIGHLIGHTS OF THE UPRISING:
Number of uprising cities: 191
Number of martyrs: At least 1500
Number of injured: More than 4,000
Number of detainees: More than 12,000
Read more: Latest News in Brief – October 3, 2020