THE CONTENT OF THIS PAGE WILL BE UPDATED WITH THE LATEST NEWS
UPDATE: 10:30 AM CEST
Iran: Coronavirus Death Toll in 450 Cities Exceeds 117,200
The People's Mojahedin Organization of Iran (PMOI/MEK) announced on Tuesday, October 6, 2020, that the Coronavirus death toll in 450 cities across Iran had exceeded 117,200. The number of victims in Tehran is 27,841, Khorasan Razavi 8,800, Khuzestan 7,538, Isfahan 5,964, Mazandaran 5,457, Qom 5,090, Gilan 4,691, East Azerbaijan 4,068, Alborz 3,215, Fars 3,136, Kermanshah 2,583, Kerman 1,793, Semnan 1,756, Central Province 1,525, and Bushehr 1,425.
***
A metro in Karaj, Iran. The Iranian regime has done nothing to prevent the COVID-19 epidemic which has lead to more than 117000 deaths
A metro in Karaj, #Iran
When we say the regime has done nothing to prevent the #COVID19 epidemic which has lead to 117k deaths, this is what we mean.
Regime's mentality: As long as Khamenei and Rouhani are safe in their homes, who cares about the rest of the population. pic.twitter.com/pj9Z0FyCZ7

— Iran News Wire (@IranNW) October 7, 2020
***
Iran HRM Monthly Report: Mullahs Continue Human Rights Violations To Quell Society
The new monthly report by the Iran Human Rights Monitor (Iran HRM) sheds light on how the mullahs' regime tries to quell the restive Iranian society by increasing oppressive measures. This report also points to the regime's criminal policy of using Covid-19 and its mass casualties to oppress the Iranian people. This report also refers to the execution of Iran's national hero, Navid Afkari.
***
Workers, employees and nurses protest in various cities across Iran
***
Defiant Youths Target 6 Repressive Centers in Tehran, Mashhad, Kazerun and Kerman
In the early hours of Monday, October 5, 2020, in protest against the execution of detained protesters (Navid Afkari, and Mostafa Salehi), as well as the arrests and death sentences issued for arrested protesters, the defiant youths set fire on the entrances of six regime centers of repression in Tehran, Kerman, Mashhad and Kazerun.
***
Iran's regime's futile efforts to spread terror and fear in the society
The past week has seen Iranian regime officials issuing threats and recommending measures that are aimed at the increasingly restive population of the country.
***
Labor rights activists Alvar Qolivand, Ms. Neda Pirkhazranian & Arash Johari, were arrested on Tuesday, October 6, 2020
***
Threats by Friday Prayers Leaders To Iran's Women Shows Mullahs' Misogynous Nature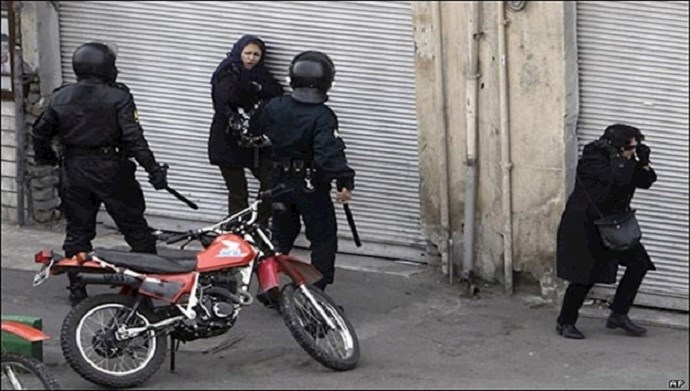 In a meeting with the head of the regime's State Security Force (SSF) in Isfahan, central Iran, on Friday, Yousef Tabatabai, Isfahan's Friday prayers leader and supreme leader Ali Khamenei's representative, threatened women, paving the way for further oppression.
***
Iran news in brief, October 7, 2020
*****
*****
WHAT ARE THE IRAN PROTESTS OF 2019?
Wednesday, October 7, 2020, marks the 326th day since the beginning of the nationwide Iran protests.
The People's Mojahedin Organization of Iran (PMOI/MEK) has identified 755 of the more than 1500 protesters killed by the regime so far.
Mrs. Maryam Rajavi, the President-elect of the National Council of Resistance of Iran (NCRI) has called on the United Nations to urgently send an international fact-finding mission to Iranian prisons to meet with the detainees.
HIGHLIGHTS OF THE UPRISING:
Number of uprising cities: 191
Number of martyrs: At least 1500
Number of injured: More than 4,000
Number of detainees: More than 12,000
Read more: Latest News in Brief – October 6, 2020